News > Features
Then again, maybe it was one of those fraud-ian slips
Sat., Sept. 17, 2005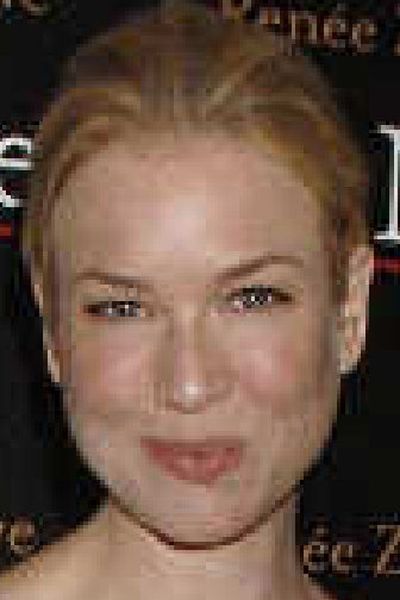 Renee Zellweger says in court papers that her marriage to Kenny Chesney was a "fraud" – but adds that it's nothing personal.
The Oscar-winning actress filed for an annulment from the country singing star on Wednesday after just four months of marriage, giving "fraud" as the reason.
The term was "simply legal language and not a reflection of Kenny's character," Zellweger said in a statement Friday.
"I would personally be very grateful for your support in refraining from drawing derogatory, hurtful, sensationalized or untrue conclusions," she added. "We hope to experience this transition as privately as possible."
Zellweger, 36, and Chesney, 37, wed in a small ceremony on the Caribbean island of St. John in the U.S. Virgin Islands in May. It was the first marriage for both.
They met at the Concert of Hope tsunami relief benefit Jan. 15, where Chesney was singing and Zellweger was answering telephones.
Something about scary
A photographer who took topless photos of Cameron Diaz and tried to sell them back to her for $3.5 million has been sentenced to three years and eight months in prison.
John Rutter, convicted in July of forgery, attempted grand theft and perjury, continued to insist in court that the case was a "misunderstanding."
Diaz was a 19-year-old aspiring model when she posed in leather boots and fishnet stockings in a warehouse for the photo session in 1992. At one point she held a chain attached to a male model's neck.
Wouldn't she be safer behind bars?
Country singer Mindy McCready has been released from jail on $50,000 bond on a charge of probation violation.
McCready, 28, pleaded guilty last year to fraudulently obtaining the painkiller OxyContin. She violated her probation in May when she was charged with driving under the influence.
A few days later, McCready's boyfriend was charged with attempted murder after allegedly breaking into her home and beating her. And in July, she was released from a hospital after an apparent suicide attempt.
A big step for Sizemore
Actor Tom Sizemore has been ordered to remain in a live-in drug rehabilitation program for another 30 days, but he can leave to work and attend charity events.
Sizemore, whose films include "Saving Private Ryan" and "Black Hawk Down," pleaded guilty last October to possession of methamphetamine. In July, he acknowledged a series of probation violations, including using a prosthetic device to fake a drug test.
Based on a doctor's report, it appears "Mr. Sizemore has taken his treatment seriously," the judge said.
Charity begins with homeboys
Michael Jackson, fresh from his acquittal on child molestation charges, says he's lined up eight other performers for his Hurricane Katrina benefit song.
A Jackson representative said James Brown, Jay-Z, Mary J. Blige, Missy Elliott, Lenny Kravitz, R. Kelly, Snoop Dogg and Ciara are scheduled to appear on the song, tentatively titled "From the Bottom of My Heart."
Jackson hopes to duplicate the 1984 worldwide hit "We Are the World," which he co-wrote to benefit African starvation victims.
The birthday bunch
Actress Elvira is 54. Comedian Rita Rudner is 49. Director Baz Luhrmann ("Moulin Rouge") is 43. Singer BeBe Winans is 43. Rapper Doug E. Fresh is 39. Singer Anastacia is 32. Singer-actress Nona Gaye is 31.
Local journalism is essential.
Give directly to The Spokesman-Review's Northwest Passages community forums series -- which helps to offset the costs of several reporter and editor positions at the newspaper -- by using the easy options below. Gifts processed in this system are not tax deductible, but are predominately used to help meet the local financial requirements needed to receive national matching-grant funds.
Subscribe now to get breaking news alerts in your email inbox
Get breaking news delivered to your inbox as it happens.
---