News > Nation/World
U.S. schools get inventive on first Constitution Day
Sat., Sept. 17, 2005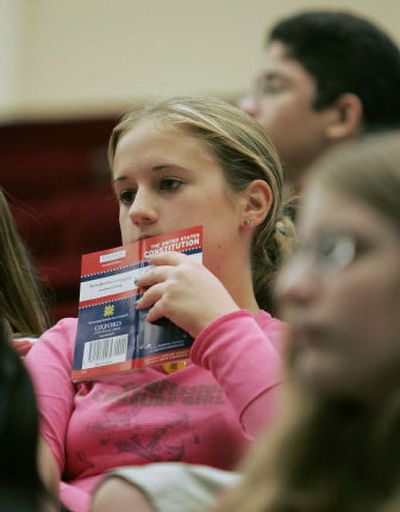 At first, some grumbled and noted the irony. A new federal law requiring schools to teach about the Constitution didn't seem to fit the spirit, at least, of the document they were supposed to celebrate.
But when the day came, schools and colleges showed there are as many ways to honor the nation's founding charter as there are to interpret it.
A new law requires the federal government and any school receiving federal funding to organize Constitution-related activities on or about Sept. 17, the day the document was adopted in 1787.
At numerous schools, that meant watching broadcasts of talks by Justices Sandra Day O'Connor and Stephen Breyer on the Constitution, or a debate on "free speech in the digital age" at the National Archives in Washington. Elsewhere, teachers and students re-enacted the debates of the founding fathers, or followed lesson plans put out by civic groups.
But colleges seemed to have the most fun complying with the law. A professor at Wesleyan, in Connecticut, set the Bill of Rights to music. Wittenberg College in Ohio offered a year of free pizza to the winner of a Constitution essay contest, and served "presidential pierogies" and "patriotic pasta" in the cafeteria. Boston University organized a panel on peer-to-peer file sharing featuring a producer named DJ Cheap Cologne.
That probably wasn't what West Virginia Democratic Sen. Robert Byrd, who carries a copy of the Constitution in his pocket, had in mind when he inserted the measure into a giant spending bill last year. But in a telephone interview Friday, Byrd said fun was fine.
"I am pleased with the enthusiasm that teachers and students and educators all over the country are showing," said Byrd, en route to a Constitution lecture at Shepherd University in his home state. "They seem to be interested in this Constitution more than ever."
The law applies to schools of all shapes and sizes – including Irene's Myomassology Institute, a massage school in Southfield, Mich., that had to comply because some students get federal financial aid.
"People who go through the naturalization process end up knowing more than citizens who have lived their whole lives here, and that's terrible," said Susan Vert, who works in admissions office there and developed a flier for students.
In Washington, a few hundred students at the National Archives listened as several prominent figures, including First Amendment lawyer Floyd Abrams, debated where to draw the line on free speech.
At Virginia's James Madison University, whose namesake wrote much of the document, Constitution Day activities are nothing new. There was a "We the people" cake, a trivia contest and a ceremony honoring the debate team.
The law prompted some concern from educators over the federal government telling schools and colleges what to teach. Generally, that's up to teachers, with guidance from state and local governments and from accrediting agencies.
Vanderbilt Law School planned to comply with the law by taking a swipe at it: a discussion next week on whether the law itself violates the Constitution.
Local journalism is essential.
Give directly to The Spokesman-Review's Northwest Passages community forums series -- which helps to offset the costs of several reporter and editor positions at the newspaper -- by using the easy options below. Gifts processed in this system are not tax deductible, but are predominately used to help meet the local financial requirements needed to receive national matching-grant funds.
Subscribe now to get breaking news alerts in your email inbox
Get breaking news delivered to your inbox as it happens.
---