News > Voices
West Valley High groups chosen to perform in D.C.
Sat., Sept. 17, 2005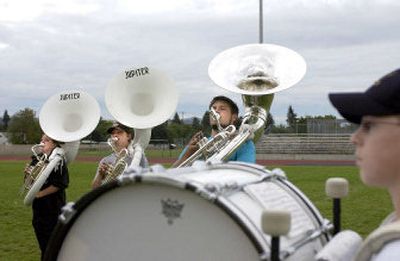 West Valley's Eagle Marching Band has its sights set on Washington, D.C.
The 80-member high school group was selected to march in the 2006 National Cherry Blossom Festival Parade as one of only 10 bands chosen nationwide. Jim Loucks, WVHS band director for 14 years, said 72 bands applied to be in the April 8 parade.
This will be the second time, actually, that the Eagles have sent musicians to the Cherry Blossom. Band members went 31/2 years ago, after 9/11.
"I'm really thrilled," said Loucks this week. "They really scrutinize each band in the application process."
"This trip is just a life-changing trip for these kids, so that's why we applied again. During the parade you march between the White House and the Washington Monument. It's just an incredible experience."
He said the application process includes such scrutiny as organizers watching recordings of parade performances frame-by-frame to make sure students are in step and have instruments positioned correctly. Loucks sent DVDs of the band marching, letters of recommendation and a band résumé listing performances and awards.
Loucks found out the end of May that the band was accepted. The band's résumé is "tremendous," he said, with top ranking at a number of competitions and winning its division several times.
West Valley's cheerleaders also plan to accompany the band, a first Cherry Blossom parade for them, he said.
"I'm flattered that our band is going back. It's a great honor. The competition this year was just incredible.
"It sure gives us something to work for. We will probably be the smallest band there. We're going back to win the competition; we know what to expect. We're really excited, and the kids are pumped up."
Students also are working hard to get funds, with each having to raise about $1,200. The band's overall cost is expected to be $100,000 to $120,000. Loucks said two drum majors, Ashley Bell and Krystal McCarthy, are assisting with preparations, as are parents.
Band members will operate a major fund-raiser – an Oct. 29 craft fair – held at the high school on the only October weekend that performances aren't scheduled. The band will be at Joe Albi Stadium for the Oct. 8 Pacific Northwest Marching Band Championships, one of many competitions this fall.
For the Washington, D.C. trip, Loucks said students enjoy seeing the capital while sharing band camaraderie.
"The thrill of marching with these other great bands and to be there in the center of our history, the kids ate it up the last time," Loucks said.
With the cheerleaders and band, the group traveling over spring break, April 4-9, could reach up to 100, he said.
"I tell students, 'You'll never experience another year with so much going on.' We will be selecting music, and we have three, four months to work on it."
CVHS junior attends March of Dimes conference
Andrea Avenger, a Central Valley High School junior and Future Business Leaders of America member, attended the March of Dimes Team Youth Conference in Washington D.C. in July.
Because of her involvement with the FBLA fund-raisers for the March of Dimes, she was invited to represent youth from the Spokane area at Team Youth.
During the conference, Avenger attended workshops on developing leadership skills, setting goals, carrying out plans, raising funds and spreading awareness of the March of Dimes.
After returning, Avenger was named a member of the March of Dimes Chain Reaction Council for Spokane Valley. She will continue to be involved in fund raising for the March of Dimes at the high school level and making presentations to classes and student organizations to spread awareness.
Avenger is also chairperson of the Oct. 1 FBLA Mile of Quarters fund-raiser to raise money for victims of Hurricane Katrina and the March of Dimes. The event will be held on Central Valley's football field. The March of Dimes is in a partnership with the FBLA National Youth Organization to raise funds and awareness in the fight to save babies.
Ness student takes literacy award
A young author from Ness Elementary won a literacy award sponsored by the KSPS television show, "Reading Rainbow." Brenden Langford, as a kindergartener last year, wrote and illustrated a book about him and his dad hiking. His entry took first place for the Spokane region and will be sent for judging at the national level.
Local journalism is essential.
Give directly to The Spokesman-Review's Northwest Passages community forums series -- which helps to offset the costs of several reporter and editor positions at the newspaper -- by using the easy options below. Gifts processed in this system are not tax deductible, but are predominately used to help meet the local financial requirements needed to receive national matching-grant funds.
Subscribe now to get breaking news alerts in your email inbox
Get breaking news delivered to your inbox as it happens.
---