Sports
A different song and dance
Mon., Sept. 19, 2005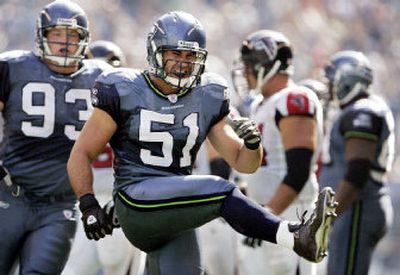 SEATTLE – Seattle's lead was dwindling away faster than you could say Same Old Seahawks.
From a cozy 21-0 advantage it slipped to 21-7, 21-10, 21-18 and … that's where it stayed, thanks to a timely defensive stand that preserved a victory over Atlanta that Seattle desperately needed on so many levels.
First, Seattle had fourth-quarter meltdowns in home losses to Dallas and St. Louis last season and never truly recovered. The Seahawks meandered down that path again Sunday before re-gripping the steering wheel in the final three minutes.
Second, the Seahawks evened their record at 1-1 after last week's sloppy season-opening loss at Jacksonville. NFL historians know that teams rarely overcome 0-2 starts and only two have dug out of that hole to win Super Bowls.
And third, well, Same Old Seahawks isn't exactly a flattering label.
On this sun-kissed afternoon before an announced crowd of 66,030 at Qwest Field, there wasn't the Same Old Ending for the Still Standing Seahawks.
"Um, yeah, I was," head coach Mike Holmgren admitted when asked if he was having flashbacks to last year during the Falcons' second-half comeback. "I was thinking, 'Oh my goodness, here we go again.' But that's football. This time we went out there and it worked out for us at the end."
Seattle made more work of this one than it probably required. The second-quarter statistics reflected Seattle's dominance: First downs, 13-0; total yards, 219-13; rushing yards, 102-20; passing yards, 117-minus 7.
Halftime score: 21-0. Game over? Nope.
Seattle built the three-touchdown lead with an almost flawless second quarter. It started with a nifty 75-yard drive that quarterback Matt Hasselbeck capped with a 6-yard touchdown pass to Joe Jurivicius.
After an Atlanta three-and-out, Hasselbeck connected with favorite target Darrell Jackson for 33 yards to the Falcons' 9. Pushed back to the 14, Shaun Alexander ran through a hole in the defense as wide as the goal posts to bump Seattle's lead to 14-0.
Three downs and a punt later, the Seahawks had the ball back at their 20 with 2:33 remaining and they quickly marched to Atlanta's 35. Hasselbeck threw deep for tight end Jerramy Stevens, who made a stunning, fully extended, fingertip catch in the end zone.
"The execution was there," center Robbie Tobeck said of the first half. "Matt was throwing the ball well, we were running the ball. What really helps is our defense was stopping their offense and their defense was on the field a lot. They were on the field dang near the whole quarter."
Quarterback Michael Vick, a suddenly stingy defense and little-known punter Michael Koenen – other than to those who follow Ferndale (Wash.) High and Western Washington University football – nearly brought the Falcons all the way back.
Seattle's first three drives of the half netted one first down. Atlanta's first two drives resulted in a Vick-to-Brian Finneran TD pass and Todd Peterson's 30-yard field goal.
Atlanta was forced to punt the next two series and Koenen, who averaged 49.1 yards per punt, pinned the Seahawks at their 9-yard line each time. Seattle escaped the poor field position and finally seemed ready to deliver the dagger when it drove to the Falcons' 18. Three penalties later, Seattle was backed up to the 42. Hasselbeck hit Bobby Engram over the middle, but he was stripped of the ball and Atlanta took over at its 45.
Vick fled the pocket and left cornerback Marcus Trufant grasping at air on a 32-yard dash, but he strained his left hamstring in the process.
"I made a move and tried to get outside and once I tried to go I just tweaked it a little bit," said Vick, who rushed for 43 yards and passed for 123, statistics that were highly acceptable to the Seahawks' defense.
Two plays later Matt Schaub replaced Vick. A pass interference penalty in the end zone on Andre Dyson gave Atlanta the ball at the 1 and T.J. Duckett plowed in for the score. Schaub hit Alge Crumpler for the two-point conversion and Seattle's lead was 21-18 with 3:58 left.
On the subsequent third down, Hasselbeck threw wide after Stevens broke into an open spot in the secondary. The Falcons' final possession began at their 27 with 2:39 remaining.
Vick returned at quarterback, but handed off to Warrick Dunn who was stuffed by Marcus Tubbs for no gain. A pass to Justin Griffith gained only two yards and Atlanta was flagged for a false start prior to the snap on third down. Vick then slipped as he began to scramble, setting up fourth-and-14.
Falcons coach Jim Mora pulled Vick – "It looked like he couldn't get any push," the coach said – and Schaub's pass down the right sideline was batted away by Dyson.
"He tried to force it between me and (safety) Ken (Hamlin) and fortunately we made the play," Dyson said.
The Seahawks entertain Arizona next Sunday.
Local journalism is essential.
Give directly to The Spokesman-Review's Northwest Passages community forums series -- which helps to offset the costs of several reporter and editor positions at the newspaper -- by using the easy options below. Gifts processed in this system are not tax deductible, but are predominately used to help meet the local financial requirements needed to receive national matching-grant funds.
Subscribe to the sports newsletter
Get the day's top sports headlines and breaking news delivered to your inbox by subscribing here.
---