News > Idaho
A song for New Orleans
Mon., Sept. 19, 2005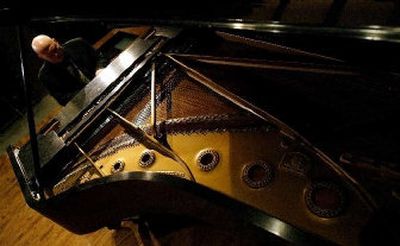 MOSCOW, Idaho – Steven Spooner remembers the record that changed his life.
As a 9-year-old taking piano lessons – which he hated – his teacher had him listen to "My Favorite Chopin."
"I went home and put the record on and I had the feeling that, how can this music have been hidden from me all my life?" Spooner said. "I felt like I was eating hot dogs, and there was filet mignon all around me."
Spooner has stuck with the filet mignon ever since.
A 35-year-old concert pianist and assistant professor of music at the University of Idaho, Spooner has a growing reputation in classical music circles. A veteran of international piano competitions, he now performs about 40 times a year around the world. One colleague wrote that he is among the top 1 percent of his generation of pianists.
His most recent performance carried an especially personal resonance. A native of New Orleans, Spooner played his signature arrangement of "How Great Thou Art" at a benefit for the victims of Hurricane Katrina on the UI campus Tuesday night, while his parents – who haven't been home since the storm struck – sat in the audience.
"I'd like to extend a word of thanks to you, by proxy, on behalf of all New Orleans," he said before his performance.
The concert, a joint production of the UI and Washington State University music programs, raised nearly $2,000 for hurricane relief. It's just one of many ways that campuses around the region have been raising money and supplies to help hurricane victims.
Spooner's parents, Alice and Bill Spooner, have since returned to a rented home in Monroe, La., while they wait to see what's happened to their home about seven miles outside the New Orleans city limits.
"We just feel fortunate," said Alice Spooner. "So many people have lost so much, we feel like we have little to complain about."
They evacuated the city the day before the storm hit and came to Moscow after spending three days in a shelter. In one way, their timing was good – Steven and his wife, Jung, just had their first child, a daughter named Alicia after pianist Alicia de Larrocha.
Alice and Bill Spooner were the initial impetus behind their son's piano playing, forcing him into lessons when he was 9, Steven Spooner said.
But once he caught the bug, he "nerded out" on classical music, devoting himself to playing and listening to music. As a youth, he discovered "The Van Cliburn Legend," a book about the hugely popular pianist that Spooner still keeps in his office, complete with two autographs from Cliburn.
Spooner remembers as he approached his 11th or 12th birthday, his mom asked what he wanted as a gift.
"I said, 'I want an extra room built on the house so I can practice the piano in private and a stereo so I can listen to my records,' " Spooner said. "She looked at me and said, 'You're getting a roller skating party like everyone else.' "
Spooner began performing as a teenager and attended Loyola University for a few years before studying music in Russia and France – where playing the piano has a deeper tradition and a higher profile. When Spooner began playing and succeeding on the international competition circuit, he was one of a rarified class: the American concert pianist.
"We're kind of like the Jamaican bobsled team," he said.
Spooner has become known for his performances of the work of Franz Liszt, a hugely influential and hugely challenging composer described by one author as the "most pianistic mind in history." Among Spooner's recordings is "Steven Spooner Plays Liszt Live," and he was a top finisher in Liszt competitions before he stopped playing them.
Spooner came to the UI in 2003, and he said he likes the balance between teaching and performing. His schedule this fall will take him to Canada, Chicago and Russia, and he plans to keep working on a 17-recital series he is performing at the UI. The series, working through major composers in history, will take him three years to complete.
"I wanted to do it as an act of self-improvement," Spooner said.
Spooner and a fellow pianist and friend, Hungarian Adam Gyorgy, performed in a high-profile concert this summer at Great Hall of the Liszt Academy in Budapest, Hungary. Spooner was greeted like a celebrity – his face adorned billboards throughout the city, he was greeted at the airport by a band, and he gave several television interviews.
Now there have been discussions about the possibility of repeating the performance in a series of concerts at the world's major concert halls, Spooner said.
Meanwhile, he's also teaching at the UI. In his office overlooking the green, treed lawns of the school's administration building, he said he tells his students that, rather than stubbornly replaying songs they're not playing correctly, they should proceed meticulously, emphasizing precision rather than repetition.
"Practice does not make perfect," Spooner said. "That's a dirty, dirty lie. Practice makes permanent."
Local journalism is essential.
Give directly to The Spokesman-Review's Northwest Passages community forums series -- which helps to offset the costs of several reporter and editor positions at the newspaper -- by using the easy options below. Gifts processed in this system are not tax deductible, but are predominately used to help meet the local financial requirements needed to receive national matching-grant funds.
Subscribe to the Coronavirus newsletter
Get the day's latest Coronavirus news delivered to your inbox by subscribing to our newsletter.
---