News > Nation/World
Afghans elect a parliament
Mon., Sept. 19, 2005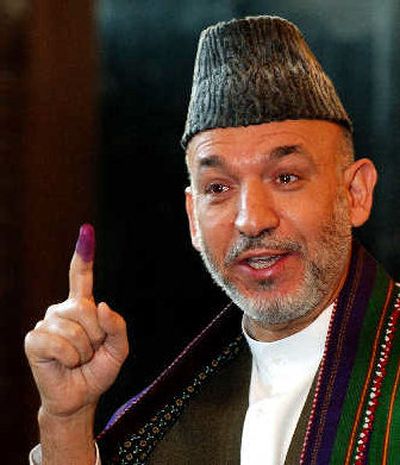 GHAZNI, Afghanistan – Afghan voters defied insurgent threats and elected their parliament for the first time in more than 35 years Sunday as a massive security operation foiled Taliban attempts to disrupt the poll.
There were 19 attacks across the country, but they were "very minor," said Peter Erben, chief operations officer for the U.N.-Afghan election commission. Three voters were injured in separate incidents in eastern Kunar province, he said.
While Erben said turnout appeared strong, some foreign and Afghan observers monitoring the polls said the participation rate appeared lower than in last October's presidential election. In that vote – won by Hamid Karzai, a strong U.S. ally – 8 million voters cast ballots and turnout exceeded 70 percent.
There were 12.5 million Afghans registered to vote Sunday, and Erben said turnout figures might be available today.
In Sunday's vote, Afghans elected 249 members of the National Assembly's lower house, called the Wolesi Jirga, or House of the People. They also cast ballots for 34 provincial councils. Election workers are set to start counting ballots Tuesday and final results are not expected for at least two weeks.
It is the first time Afghans have elected the lower house of their National Assembly in 36 years, and only the third parliamentary election since 1964, when the Afghan king introduced democratic reforms.
"We are making history," Karzai said as he cast his ballot. "It's the day of self-determination for the Afghan people. After 30 years of wars, interventions, occupations and misery, today Afghanistan is moving forward, making an economy, making political institutions."
Ronald E. Neumann, U.S. ambassador to Afghanistan, said Afghans' determination to go to the polls despite of threats "inspired people all over the world to remember that the right to choose one's government is precious."
There were numerous reports of voting irregularities, including intimidation of voters, attempts to cast more than one ballot, fake registration cards, and men trying to cast ballots on behalf of women in conservative rural areas.
Sixteen out of more than 6,000 polling centers did not open because of security and logistical problems, Erben said.
But election day ended without the widespread protests seen during last October's presidential elections, when voters were able to rub off ink marks that were supposed to prevent multiple voting.
"I have been relieved at the (low) level of problems we have had today," Erben said.
In Ghazni, 75 miles southwest of the capital, Kabul, candidate Khan Badshah Khan, 68, said Afghans took the risk and defied Taliban threats as a patriotic duty.
"The Taliban are everywhere around here, but the people of Ghazni are brave," he said while visiting a polling station where voters cast ballots under trees behind cardboard screens. "We are ready to die for our country."
U.S. and Afghan forces detained three suspected insurgents Sunday in Ghazni and neighboring Wardak province.
Three days earlier, a roadside bomb in Ghazni exploded next to a U.S. military vehicle, killing an Afghan interpreter and wounding two U.S. troops. They were patrolling for insurgents trying to disrupt the election.
The Afghan Interior Ministry said security forces prevented a car bomb plot in Ghazni on the eve of the election. But there were no reports of significant incidents in the province Sunday, police said.
Afghanistan has been at war for the past 25 years, and more than 1,100 people – including 51 U.S. troops – have died in an insurgency this year. Suspected Taliban insurgents killed at least seven candidates and four election workers in the weeks before the vote.
A French soldier was killed and another seriously wounded by a land mine Saturday in southern Afghanistan, the French Defense Ministry said.
A U.S. soldier and two Afghan troops were hurt Sunday when they came under small-arms and rocket-propelled-grenade fire on patrol near Salerno, in Khowst province, which borders Pakistan. Attack helicopters provided close air support and two suspected guerrillas were killed, the U.S. military said.
U.S. and Afghan forces also fought off attacks in Nangarhar and Paktika provinces, and suspected Taliban fighters fired two rockets at a U.N. warehouse in Kabul on Sunday morning, injuring an Afghan worker. In Kunar province, attackers fired at polling stations in the Pec valley Sunday morning, but a quick reaction force of U.S. and Afghan troops moved in and voting carried on, Erben said.
Seventy-six parties had candidates in the election, and Afghan analysts expected no party or alliance to win enough seats to dominate the House of the People. Instead, bitter enemies including communists, former Taliban members and former guerrilla fighters are likely to squabble with one another and Karzai's government.
The provincial councils and district councils will choose two-thirds of the members of the upper house. Karzai will appoint one-third of the upper house.
Local journalism is essential.
Give directly to The Spokesman-Review's Northwest Passages community forums series -- which helps to offset the costs of several reporter and editor positions at the newspaper -- by using the easy options below. Gifts processed in this system are not tax deductible, but are predominately used to help meet the local financial requirements needed to receive national matching-grant funds.
Subscribe to the Coronavirus newsletter
Get the day's latest Coronavirus news delivered to your inbox by subscribing to our newsletter.
---