News > Spokane
Bridge finally open – for businesses
Mon., Sept. 19, 2005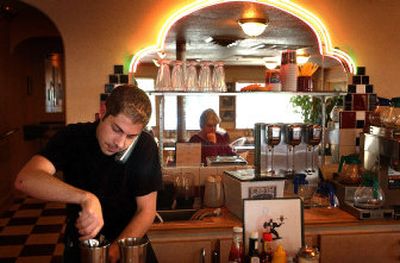 The message on the sign will be a harbinger of hope for the auto shop owner, the antique dealers and other merchants who have kept an anxious eye on the Monroe Street Bridge restoration project.
Management at Charley's Grill and Spirits was planning to greet the reopening with the words "Monroe Street Bridge. Hallelujah," in black vinyl letters on the restaurant's sign.
Yes, there is light at the end of the bridge.
With the parties over and the pedestrians back on the sidewalk, the Monroe Street Bridge opened to traffic late Sunday afternoon after two years, nine months and 19 days of hammering and pounding Monroe Street's small businesses to an economic pulp. Since restoration began in January 2003, some stores slipped into the abyss while other store owners managed to barely hang on.
"This has been the hardest thing I've ever had to do my entire life," said Shirley Williams, who owns Charley's, 801 N. Monroe St., with her husband, Jack.
Since day one, Shirley hasn't been shy about expressing her opinion about the $18 million project. The bridge, which crosses the Spokane River on one of the busiest north-south routes in Spokane, was to reopen in June. When structural problems were discovered, the reopening was delayed.
Since day 800-and-something, the sign outside Charley's showed the number of days the bridge had been closed. Fifty-six days ago, the countdown was reversed to show the number of days until the bridge reopened. Shirley Williams said her business was able to survive because of understanding bankers, vendors and the utility company.
"We also have a handful of loyal, loyal regulars who came here no matter what," she added.
Bill Garras, owner of a 9,000-square-foot building that's home to the Monroe Street Bridge Antique Market, may not have put up a sign showing his feelings, but his joy was the same.
"Hooray, I'm glad to see it open," said Garras, who has been commuting to 604 N. Monroe St. from the South Hill for nearly 50 years.
Garras said that since the bridge closed, business dropped about 25 percent. About 40 vendors lease space in the store, which takes up most of the block on the east side of North Monroe.
"You have to have deep pockets for this type of thing. You have to prepare for this thing," Garras said. "And lots of people lost their businesses around here."
Some of those no longer around are a vintage record store, a used bookstore, a bakery and cafe, a piercing and tattoo parlor, a jewelry store and a physical therapy center. Eloise Moeller, owner of Little Nell's Records, 711 N. Monroe, had been a fixture on the 700 block of North Monroe for decades. But the traffic rerouting caused her sales to slip by 30 percent, she told the newspaper this past spring. Moeller closed the shop and retired during the summer. The space remains empty, as does the corner spot that once was the location of Turning Pointe Physical Therapy, which has moved.
However, the bail bond business continues to thrive in the two-block area that's within walking distance of the Spokane County Courthouse. Aladdin Bail Bonds popped up during the spring as one of four bail bond providers south of Broadway. The building, with the Turner House halfway house for federal inmates on the upper floors, also is about to become the location of a law office and a drug and alcohol assessment program office.
"We've noticed a huge difference in our neighborhood since the bridge closed down," said Fran Ostrom, director of Turner House. "People used to be stopping and shopping and walking up and down the sidewalks and they are not doing that anymore."
Dave Lewis, owner of The Merq Café and Liquid Lounge, 706 N. Monroe St., is hoping for the return of those times. He said in order to survive, he converted what once was a coffee house to a full-scale restaurant and night club. Now, he's adding after-hours breakfast until 4 a.m. on Fridays and Saturdays.
"There is not a word that can describe the happiness of businesses in the neighborhood," said Lewis, while getting the dance floor ready for a Saturday night bridge reopening party.
Cliff Daigler, owner of the Top Notch Cafe, and Ray Yelvington, store manager at Golden Rule Brake, also share in the happiness. Daigler has owned the cafe at 825 N. Monroe for eight years. He said his business has been down by about $60,000 a year.
Yelvington said his regulars continued to service their vehicles at his shop, but slow business forced management to cut the staff down to a skeleton crew. Golden Rule Brake was established in 1954.
"We're ecstatic," Yelvington said about the reopening.
Same can be said for Chere Perrigo, a partner at Strata Hair, three blocks north of the auto shop. Perrigo went into business four months before the construction began, and survived. She said her only disappointment is that she'll be out of town this week, yet another bout of ill-timing.
"I really wanted to be there to see what's going to happen," Perrigo said. "I expect to see traffic pick up … and that's good."
Local journalism is essential.
Give directly to The Spokesman-Review's Northwest Passages community forums series -- which helps to offset the costs of several reporter and editor positions at the newspaper -- by using the easy options below. Gifts processed in this system are not tax deductible, but are predominately used to help meet the local financial requirements needed to receive national matching-grant funds.
Subscribe to the Coronavirus newsletter
Get the day's latest Coronavirus news delivered to your inbox by subscribing to our newsletter.
---