News > Nation/World
Clear mandate eludes German conservatives
Mon., Sept. 19, 2005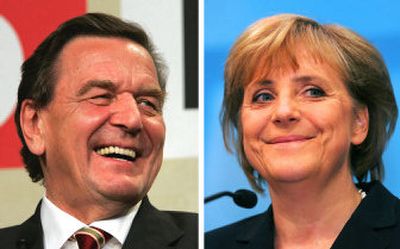 BERLIN – Conservative challenger Angela Merkel's party won the most votes in German elections Sunday, but fell short of a clear mandate to govern, according to official results. Chancellor Gerhard Schroeder staged a dramatic comeback and proclaimed that he should head the next government.
The inconclusive result made it likely that Germany's next government would be weakened because of the narrow vote margin and difficulties in forming a coalition.
If Merkel is to become Germany's first female chancellor, she now must find a majority in a coalition that would likely force her to water down finance reform plans. And such a deal might also lead to a dampening of her strong opposition to Turkish membership of the European Union.
The vote centered on different visions of Germany's role in the world and how to fix its sputtering economy. Schroeder touted the country's role as a European leader and counterbalance to America, while Merkel pledged to reform the economy and strengthen relations with Washington.
With 298 of 299 districts declaring, the results showed Merkel's Christian Democrats party leading with 35.2 percent of the vote compared to 34.3 percent for Schroeder's Social Democrats. Voting in the final district, Dresden, was delayed until Oct. 2 because of the death of a candidate. But that outcome was not expected to affect the final result.
The outcome gave Merkel's party 225 seats, three more than the Social Democrats; the Free Democrats got 61, the Left Party 54 and the Greens 51.
The result was a major setback for Merkel, whose party was at 42 percent in polls the week before the election.
The unclear result opened a scramble among the parties to see who could come up with a majority.
Schroeder, written off as a lame duck a few weeks ago, refused to concede defeat, saying he could still theoretically remain in power if talks with other parties were successful.
"I feel myself confirmed in ensuring on behalf of our country that there is in the next four years a stable government under my leadership," he said to cheering supporters at party headquarters, flashing the thumbs-up signal and holding his arms aloft like a victorious prizefighter.
Local journalism is essential.
Give directly to The Spokesman-Review's Northwest Passages community forums series -- which helps to offset the costs of several reporter and editor positions at the newspaper -- by using the easy options below. Gifts processed in this system are not tax deductible, but are predominately used to help meet the local financial requirements needed to receive national matching-grant funds.
Subscribe to the Coronavirus newsletter
Get the day's latest Coronavirus news delivered to your inbox by subscribing to our newsletter.
---