News > Nation/World
Kurdish legislator assassinated
Mon., Sept. 19, 2005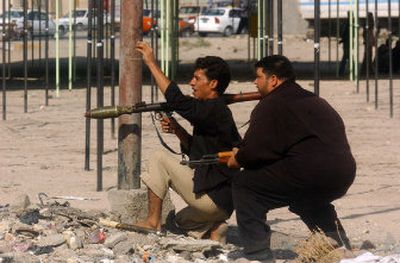 BAGHDAD, Iraq – Insurgents assassinated a Kurdish member of parliament and police found 20 bodies shot to death and dumped in the Tigris River north of the capital, where there was no major violence Sunday for the first time in five days.
Faris Nasir Hussein, a member of the Patriotic Union of Kurdistan party, was killed along with his brother and their driver in an ambush 50 miles north of Baghdad. A second Kurdish lawmaker, Haidar Shanoun, was wounded in the attack near the town of Dujail.
Police and PUK officials said the men were killed Saturday night as they drove to the capital for Sunday's session of the legislature, which signed off on minor amendments to Iraq's draft constitution and delivered it to the United Nations for printing. The U.N. will distribute 5 million copies in advance of the Oct. 15 referendum.
Lawmakers sat for a minute of silence to honor their dead comrade.
"The terrorists have launched a war of aggression against all Iraqis (but) we are up to it," said Deputy Speaker Hussain al-Shahristani.
Authorities reported finding two dozen more bodies Sunday, men shot to death in the apparent ongoing tit-for-tat killings between Sunni and Shiite death squads.
Four of the dead were found handcuffed and shot in east Baghdad. Twenty more were dragged from the Tigris River near Balad, a city 50 miles north of the capital, police reported.
The U.S. military said a soldier was killed in a roadside bombing while on patrol near Al Asad Air Base in a violent region near the Syrian border. The dead soldier was assigned to the 56th Brigade Combat Team.
In Basra, Iraq's second-largest city, 200 militiamen with automatic weapons and rocket-propelled grenades set fire to tires as they barricaded main streets, demanding the provincial governor order the immediate release of Sheikh Ahmed Fartosi.
The sheikh, a senior figure among followers of radical Shiite cleric Muqtada al-Sadr and his Mahdi Army militia, was arrested by British and Iraqi forces on Friday. He was accused of launching raids against security forces in the city, police said.
A coalition military statement on Sunday said Fartosi and two other detained militants were "suspects in terror attacks against Coalition forces, resulting in the deaths of nine members of coalition forces in the past two months in Basra."
After a tense standoff lasting several hours, the militiamen withdrew when an al-Sadr representative arrived from Najaf to negotiate with police and British forces who control the region.
Sheikh Mudhafar al-Shawki emerged from the meeting Sunday night and ordered the militiamen stay off the streets until he could report to al-Sadr. Neither side would give details of the talks.
In the troubled and ethnically mixed northern city of Kirkuk, a roadside bomb killed five Iraqi soldiers and wounded two others, police said.
Insurgents attacked a fuel train headed for Baghdad's major power station early Sunday, but their were no casualties in the bombing which was one of only a few incidents of violence reported in the Iraqi capital Sunday.
Since Wednesday, when 14 suicide bombs exploded in Baghdad , a staggering wave of insurgent violence has killed at least 250 and wounded hundreds more nationwide.
Local journalism is essential.
Give directly to The Spokesman-Review's Northwest Passages community forums series -- which helps to offset the costs of several reporter and editor positions at the newspaper -- by using the easy options below. Gifts processed in this system are not tax deductible, but are predominately used to help meet the local financial requirements needed to receive national matching-grant funds.
Subscribe to the Coronavirus newsletter
Get the day's latest Coronavirus news delivered to your inbox by subscribing to our newsletter.
---