News > Spokane
Monroe bridge reopens
Mon., Sept. 19, 2005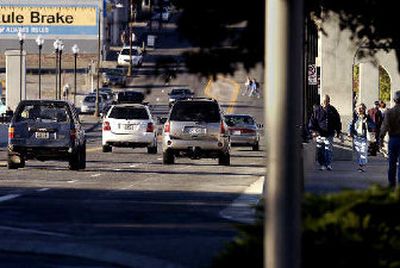 The much anticipated Monroe Street Bridge began a new era at 4:40 p.m. Sunday, when it opened a little ahead of schedule.
An 84-year-old man, who was on hand in 1928 for the unveiling of the Lincoln statue near Main and Monroe, was riding in the first car to cross the newly reopened bridge since it closed almost three years ago. The car: a blue 1994 Geo Metro.
"We were the very first automobile to go across the bridge," said Wallace Anderson of north Spokane. "It's incredible."
Anderson was with his friend, Cherrie Barnett, at the bridge about 3 p.m. Sunday, where they met city Public Works and Utilities Director Roger Flint, who told them that the bridge would probably open after clean up that afternoon.
"I told Cherrie that we were going to wait and try to be one of the first cars across the bridge," Anderson said. "And we were the very first."
Workers picked up the cones and waved Barnett on.
"They were giving us thumbs up," Barnett said. "As we went across there were workers all the way down. We honked a couple times. It felt pretty neat."
Local journalism is essential.
Give directly to The Spokesman-Review's Northwest Passages community forums series -- which helps to offset the costs of several reporter and editor positions at the newspaper -- by using the easy options below. Gifts processed in this system are not tax deductible, but are predominately used to help meet the local financial requirements needed to receive national matching-grant funds.
Subscribe to the Coronavirus newsletter
Get the day's latest Coronavirus news delivered to your inbox by subscribing to our newsletter.
---