News > Nation/World
New Orleans isn't ready for residents, chief says
Mon., Sept. 19, 2005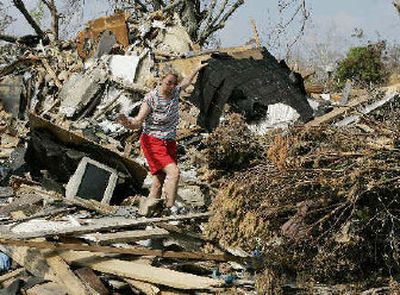 NEW ORLEANS – One day before Mayor Ray Nagin plans to start letting residents return, the commander of the federal recovery effort warned Sunday that the city simply isn't ready.
Dangers abound, said Coast Guard Vice Adm. Thad Allen. The city's levees are too weak to protect against another storm. An evacuation plan to clear the crippled city in the event of another disaster isn't complete. The city still lacks drinkable tap water and working telephones, and bacteria-tainted floodwaters pose a serious health hazard.
As the death toll from Hurricane Katrina neared 900, New Orleans business owners continued to dribble into the city on Sunday, assessing damage and cleaning debris.
Under Nagin's plan, announced last week, the first residents will be allowed to return today to Algiers, across the Mississippi River from downtown New Orleans.
Allen said he would meet with Nagin today and provide a "frank and unvarnished report" on the city's status. He said he hoped their meeting would lead to "a logical plan forward to repopulate the city."
Nagin was not available Sunday to talk about the return plan or Allen's comments. On Saturday, his office issued a statement contending that his re-entry plan "balances safety concerns and the needs of our citizens to begin rebuilding their lives. … Promoting the return of commerce to New Orleans and the region is key if we are going to realize our common objective: to bring New Orleans back."
Said Allen Sunday: "We really support his plan to restart New Orleans," speaking on NBC and CNN news-talk shows. But, Allen added, "it's a matter of timing."
Louisiana state officials also expressed concern with the mayor's plan.
"The party line is simple – we'd rather people not go back to New Orleans," said Mark Smith, spokesman for the Louisiana Office of Homeland Security and Emergency Preparedness.
"But there is no way we can prevent anyone – short of military action – from going in," Smith said. "That's his city. That's his parish. … Sooner or later, people have to be able to return to their lives."
Large parts of the city are far from being ready for people to return.
A two-hour aerial survey Sunday exposed vast flooding south of New Orleans and a section of the northeast portion of the city. Searchers aboard rescue boats scoured the University Park area, where the water appeared to be 3 to 4 feet deep in places.
South along the Mississippi toward the river's mouth, an estimated 40 miles of land was submerged, stretching from Port Sulphur to Venice, said Maj. Randell Venzke with the National Guard in Madison, Wis. Fishing boats tossed by the storm remained scattered. A 200-foot boat sat marooned in the middle of a nearby highway.
South of the city, a slick oily sheen covered a vast area of flooded land, apparently spreading from a collapsed storage tank.
In places now dry, grass and trees once submerged in floodwaters are dying. Entire towns have been flattened. Houses, smashed to pieces, look like piles of matchsticks from the air. Hundreds of power lines are down.
With the city's levee system damaged, Allen said, the city must have a detailed plan on how it would notify residents of another storm and how they would be evacuated in time. But that plan is still in the works, he said.
Another storm that potentially could end up crossing the Gulf of Mexico was approaching the Florida Keys on Sunday, and authorities issued a hurricane watch for the island chain. The new tropical depression was expected to become Tropical Storm Rita.
Long-term forecasts show the storm crossing into Gulf of Mexico toward Texas, but hurricane tracks veer notoriously, raising the possibility that it could strike areas already devastated by Hurricane Katrina.
Smith, the Louisiana homeland security spokesman, said authorities were concerned about the possibility of additional rainfall from storms, including some brewing in the Gulf of Mexico.
"We are keeping a very close eye on those storms," he said.
Nagin's plan calls for areas where about 182,000 people lived to be reopened over the next two weeks, out of a city of nearly 500,000. The areas to open in stages include the central business district and the French Quarter.
As residents and business owners return, they will be asked to verify proof of residence or business ownership with identification, Nagin said. Law enforcement agencies and the National Guard will enforce a dusk-to-dawn curfew, which will remain in effect indefinitely.
Local journalism is essential.
Give directly to The Spokesman-Review's Northwest Passages community forums series -- which helps to offset the costs of several reporter and editor positions at the newspaper -- by using the easy options below. Gifts processed in this system are not tax deductible, but are predominately used to help meet the local financial requirements needed to receive national matching-grant funds.
Subscribe to the Coronavirus newsletter
Get the day's latest Coronavirus news delivered to your inbox by subscribing to our newsletter.
---