Sports
Rangers blast past Mariners
Mon., Sept. 19, 2005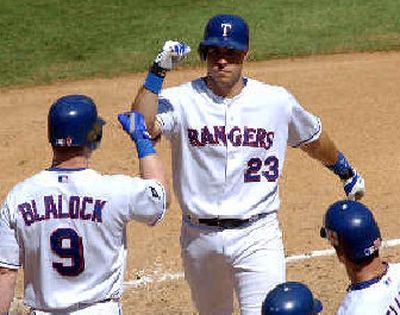 ARLINGTON, Texas – Coors Field has some competition.
Mark Teixeira homered twice and three teammates also connected as the Texas Rangers set a major league record for home runs at home, beating the Seattle Mariners 8-6 Sunday to finish a four-game sweep.
Rod Barajas' drive in the fourth inning gave the Rangers 150 homers at Ameriquest Field this season, breaking the mark of 149 set by the 1996 Colorado Rockies at Coors Field — long considered the best ballpark in the majors for hitters.
Texas' 12-year-old stadium isn't too shabby, either.
"In this park, you get the ball up and they'll make you pay for it," Mariners manager Mike Hargrove said. "The Rangers take advantage of this park and when you add that we didn't pitch well, this is what happens."
Teixeira broke a tie with a three-run shot and pushed his season total to 41 homers. David Dellucci and Alfonso Soriano also homered on a windy afternoon for the Rangers, who have won five in a row to reach .500 (75-75) for the first time since Aug. 9.
Teixeira joined Juan Gonzalez, Rafael Palmeiro and Alex Rodriguez as the only Texas players with at least 40 homers in a season.
"Those are three great players," said Teixeira, who had four RBIs to increase his total to 132, tied for the A.L. lead with Boston's David Ortiz. "You can feel good about your accomplishment when you're mentioned with those players. Hitting 40 homers is a great number that not many people get to."
The switch-hitting Teixeira added a solo homer in the seventh while batting right-handed against George Sherrill to extend Texas' lead to 8-6. He had his seventh multihomer game this season and the 11th of his career.
Teixeira homered from both sides of the plate for the second time in his career. The other was July 4, 2004.
"He's having an incredible season," teammate Michael Young said. "He's talented and driven and the exciting thing is the best is yet to come."
R.A. Dickey (1-1) was the beneficiary of the long-ball outburst in his second major league start since his conversion to a knuckleball pitcher.
Dickey allowed six runs and six hits in 5 2/3 innings and left with a 7-5 lead. He walked four and struck out two.
"I gave up four of the hits on the knuckleball and they didn't hit most of them good," Dickey said. "I think I pitched better than the numbers show."
Francisco Cordero got three outs for his 34th save in 42 chances.
Seattle went ahead 1-0 in the third on Miguel Ojeda's RBI single, but Texas answered with a three-run third on Dellucci's leadoff homer – his 28th – and Soriano's two-run shot – his 35th.
The Mariners took a 4-3 lead with a three-run third, taking advantage of Dickey's inability to control the knuckler. Jose Lopez had an RBI double, Ojeda drew a bases-loaded walk and Ichiro Suzuki added an RBI groundout.
Texas used a four-run fourth to take a 7-4 lead. Barajas hit a solo shot – his 20th – and Teixeira had a three-run homer.
Seattle starter Ryan Franklin (6-15) yielded four homers in four innings, allowing seven runs and six hits. He struck out four and walked four, falling to 1-6 lifetime in Arlington.
"I don't like this place," Franklin said. "I got my first major league win here, and that's the most success I've had. (Texas has) probably the best-hitting infield in the game and it's a tough ballpark to pitch in."
The Mariners made it 7-5 in the sixth when Greg Dobbs hit his first career triple and scored on Lopez's groundout. Later in the inning, Suzuki's RBI single off Joaquin Benoit pulled Seattle to 7-6.
Notes
Barajas gave the Rangers seven players with at least 20 homers, tying the major league record held by the 1996 Baltimore Orioles and the 2000 Toronto Blue Jays. … Young extended his hitting streak to 16 games, matching his career high set earlier this season. Young was the DH for the third time this season with Mark DeRosa getting the start at shortstop. … Suzuki was the DH for the second straight game as he got a break from playing the outfield to rest a sore foot. Suzuki is expected back in right field today at Toronto. … Gonzalez hit 40 or more homers five times for the Rangers. Palmeiro and Rodriguez hit 40 or more three times for Texas.
Local journalism is essential.
Give directly to The Spokesman-Review's Northwest Passages community forums series -- which helps to offset the costs of several reporter and editor positions at the newspaper -- by using the easy options below. Gifts processed in this system are not tax deductible, but are predominately used to help meet the local financial requirements needed to receive national matching-grant funds.
Subscribe to the sports newsletter
Get the day's top sports headlines and breaking news delivered to your inbox by subscribing here.
---