Sports
Seahawks understand doubts, John Blanchette says.
Mon., Sept. 19, 2005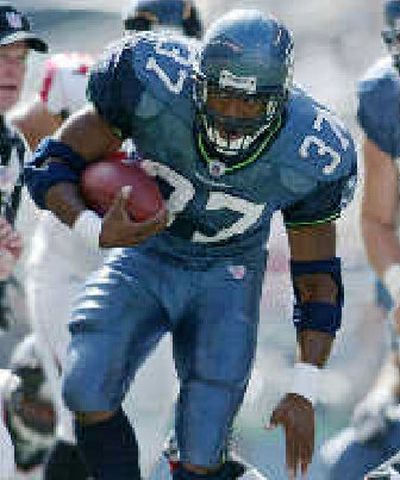 SEATTLE – OK, the here-we-go-again business. You deserve a full accounting.
You couldn't turn six inches in any direction in the Seattle Seahawks locker room Sunday afternoon without seeing a talking head or a notebook jockey gaze probingly into a player's eyes and ask:
"So, when they wiped out most of your 21-point lead, when you guys took three penalties in the space of four plays, when you fumbled the ball away with seven minutes to go, when you blew a chance to run out the clock because a receiver ran one way and the quarterback threw it another, when the other team's backup quarterback came in cold off the bench and threw a tricky two-point conversion…
"So, Mr. Seahawk, were you thinking, 'Here we go again?' "
You could imagine the Seahawks, doing their best to savor a 21-18 victory over the Atlanta Falcons, hearing the first few bars of that refrain and thinking, "No, but now I'm thinking, 'Here we go again.' "
But they didn't. They understand.
They know about just cause, about conditioned response. A good sweat might be disguised under an overcoat of cologne, but history is history and it's a hard old dog to live down. And so prominently, if not regularly, have recent Seahawks turned certain victory into the foregone conclusion of defeat that it's become an article of faith.
Or faithlessness. Take your pick.
And not just to the skeptics, but to the true believers.
"Yeah, I was," Seattle coach Mike Holmgren admitted when the question was put to him Sunday. "I've never lied to you yet, so I'm not going to lie to you tonight. Yeah, I was thinking, 'Oh, my goodness, here we go again.' But that's football."
Oh, it's not just football. It's the Seahawks' way.
The great swoon against St. Louis last year at Qwest Field, in which a 17-point lead in the fourth quarter became so much confetti. The diabolical Dallas meltdown that saw a 10-point lead disappear in the final 105 seconds. The last-play pass to send the playoff game against the Rams into overtime that slithered through Bobby Engram's fingers.
This is what the Seahawks do, until they show it isn't.
And now, finally, there's actually evidence to the contrary.
The Seahawks had a three-touchdown lead at halftime thanks to a miraculous second quarter of passing, running and rhythm. No, they didn't score in the second half – or really even come close – and haven't yet this season, but that's a nag for another day.
The thought for this day: neither did they give up 22 in the second, either.
"With four minutes left in the game, you hope the offense can go out there and run out the clock," admitted defensive end Grant Wistrom. "But it's a team effort. They gave us 21 in the first half and with a 21-point lead at halftime, those are the kind of games you have to win on defense."
And so they did. When quarterback Matt Hasselbeck and tight end Jerramy Stevens – who had hooked up so spectacularly on Seattle's third touchdown – misfired on third down with just under three minutes left, the Seahawks had no choice but to turn the job over to the defense.
So linebacker Jamie Sharper swallowed up Warrick Dunn for no gain. D.D. Lewis put a hellacious lick on Atlanta's Justin Griffith after a 2-yard pass. Bryce Fisher was there to finish the sack of Michael Vick when none of the Falcon quarterback's receivers was able to shake free, and finally Andre Dyson knocked away the last desperate heave of Vick's backup, Matt Schaub.
Four plays. The Seahawks made them all.
"It's huge, for as many games as we gave away last year," Wistrom said. "This is a game that last year, who knows if we win or lose? You look at our past, we probably would have lost this game. But a new year, a new set of guys and a new attitude on the defense – hopefully, it's just a sign of things to come."
Indeed, there are seven new starters on the Seahawks' defense – Wistrom being the only holdover of the front seven. None of the linebackers – Sharper, rookie Lofa Tatupa and Lewis, who missed 2004 with an injury – played for the Seahawks a year ago. The retooled defense wasn't given much of a chance to succeed by the Seattle offense a week ago at Jacksonville, but on Sunday allowed the Falcons just 223 yards and – one 32-yard sprint aside – made the resourceful Vick look like a rich man's Isaiah Stanback.
"I think we were smart about it," defensive tackle Rocky Bernard said. "Some teams go and all-out rush him or run a lot of different games, and they lose sight of him and he takes off running on them. I think we did a good job of keeping him out of the rush lanes and keeping him contained."
But there were other, unexpected signs of a different Seattle approach. Having turned Hasselbeck into a human shuttlecock against Jacksonville, the offensive line gave him impeccable protection. Stevens' stunning catch may have been the breakout play to justify Holmgren's immense patience – or indulgence – in him for three tumultuous years.
And while running back Shaun Alexander ran crisply for 144 yards, none were more impressive than the four he got running over Atlanta's Bryan Scott for a first down that bailed the Seahawks out of some field-position hell.
"I told some of the guys before the game that playing aggressive and playing with passion is a choice," he said. "I said that everybody should make the choice today."
It was amusing, then, to see an item in the pre-game notes the Seahawks distributed showing that since National Football League realignment in 2002, 25 of the 36 teams which have made the playoffs began their year either 1-1 or 0-2.
It looked almost like a shield – nothing fatal can happen today – though the buzzkill of an 0-2 start was certainly on some minds.
"That," said Wistrom, "would have been awfully bad around here.
"Our fans are so hungry for a winning team here. They want it so bad, I hope this is the year we can give it to them."
Hope? Here we go again.
Local journalism is essential.
Give directly to The Spokesman-Review's Northwest Passages community forums series -- which helps to offset the costs of several reporter and editor positions at the newspaper -- by using the easy options below. Gifts processed in this system are not tax deductible, but are predominately used to help meet the local financial requirements needed to receive national matching-grant funds.
Subscribe to the sports newsletter
Get the day's top sports headlines and breaking news delivered to your inbox by subscribing here.
---