News > Spokane
Second insemination try for Seattle elephant
Mon., Sept. 19, 2005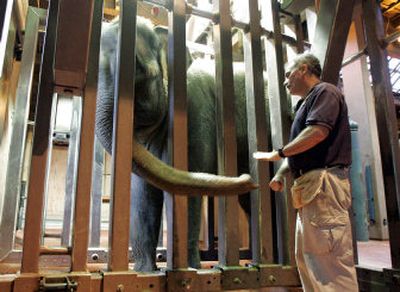 SEATTLE – An ultrasound taken Sunday morning revealed that Woodland Park Zoo's 26-year-old Asian elephant, Chai, is ovulating, prompting two German scientists to try once again to inseminate her artificially.
The scientists, Dr. Thomas Hildebrandt and Dr. Frank Goeritz, last tried to inseminate Chai in March.
Zoo officials had to wait until June to learn that the procedure hadn't worked and this is Chai's next cycle, said zoo spokeswoman Gigi Allianic. Elephants ovulate just three times a year.
Fresh bull elephant semen was rushed to Seattle from the Oregon Zoo in Portland and the Tulsa Zoo in Oklahoma on Sunday, and the tricky business was scheduled to begin at 6 p.m.
More semen was expected to be received today, and zoo officials scheduled a second attempt for Tuesday afternoon — if Chai is still ovulating.
"She has a good opportunity to breed again," Allianic said Sunday.
Chai has one calf, Hansa, who was born five years ago after Chai mated with a bull at a zoo in Missouri.
Hansa was the first elephant born at the 100-year-old Woodland Park Zoo, which has no male elephants.
Local journalism is essential.
Give directly to The Spokesman-Review's Northwest Passages community forums series -- which helps to offset the costs of several reporter and editor positions at the newspaper -- by using the easy options below. Gifts processed in this system are not tax deductible, but are predominately used to help meet the local financial requirements needed to receive national matching-grant funds.
Subscribe to the Coronavirus newsletter
Get the day's latest Coronavirus news delivered to your inbox by subscribing to our newsletter.
---