Sports
White becomes fifth Packer to have his number retired
Mon., Sept. 19, 2005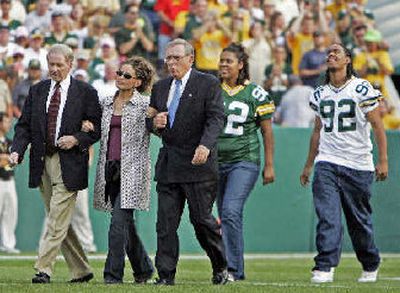 To the cheers and chants of "Reggie," the "Minister of Defense" now has his name above the NFL's most famous cathedral.
The Green Bay Packers retired their fifth number in club history – Reggie White's No. 92 – at halftime of Sunday's game against the Cleveland Browns at Lambeau Field in Green Bay, Wis.
"He gave himself to Green Bay and Green Bay showed its love to him and his family," said White's widow, Sara. "Because of the patience of the Green Bay fans for so many years, Reggie helped bring a Super Bowl title."
White's number joined wide receiver Don Hutson (14), fullback Tony Canadeo (3), quarterback Bart Starr (15) and linebacker Ray Nitschke (66) in a stirring ceremony that included former GM Ron Wolf, who brought White to Green Bay, and White's children, Jecolia and Jeremy.
White, who suffered from sleep apnea and sarcoidosis, died last December in Cornelius, N.C., at age 43.
The number is the first retired since Nitschke received the honor 22 years ago. It's also the first posthumously awarded.
White played 15 seasons with Philadelphia, Green Bay and Carolina. He retired after the 2000 season as the NFL's career sacks leader with 198, a mark that was subsequently passed by Bruce Smith.
"In the same game, Brett Favre joined Dan Marino and John Elway in the 50,000-yard passing club Sunday, and then the Green Bay Packers quarterback broke Elway's single-stadium touchdown record.
Favre started the day 65 yards shy of the 50,000-yard mark, and reached the milestone on a 17-yard pass to running back Ahman Green in the second quarter at Lambeau Field.
Marino holds the NFL record with 61,361 yards passing and Elway is second at 51,475. Favre has 50,277.
Favre, in his 14th season as a starter, threw three TD passes Sunday, giving him 181 at Lambeau.
Elway threw 180 TD passes at Mile High Stadium. Favre also had 17 at old Milwaukee County Stadium, where Green Bay used to played some home games.
Tomlinson sets TD record
LaDainian Tomlinson of the Chargers ran for a 16-yard touchdown against Denver to set an NFL record with rushing TDs in 14 straight games.
Tomlinson took a pitch from Drew Brees and ran around right end untouched into the end zone to give San Diego a 7-3 lead early in the second quarter.
With the score, he broke the record he shared with John Riggins (1982-83) and George Rogers (1985-86), both of whom set it with the Redskins.
The last team to deny Tomlinson a touchdown rushing was the Broncos, who held him scoreless last Sept. 26.
Smith joins 800 club
Jacksonville wide receiver Jimmy Smith became the 12th player in NFL history to catch 800 passes.
Smith, who entered the game with 799 career receptions, caught his first pass – a 21-yarder from Byron Leftwich – with 7:54 left in the second quarter to join the 800 club.
Smith, 36, needs 16 more catches to break into the NFL's top 10 career receivers.
Associated Press
Local journalism is essential.
Give directly to The Spokesman-Review's Northwest Passages community forums series -- which helps to offset the costs of several reporter and editor positions at the newspaper -- by using the easy options below. Gifts processed in this system are not tax deductible, but are predominately used to help meet the local financial requirements needed to receive national matching-grant funds.
Subscribe to the sports newsletter
Get the day's top sports headlines and breaking news delivered to your inbox by subscribing here.
---