News > Business
Big chill at Planet Ice
Wed., Sept. 21, 2005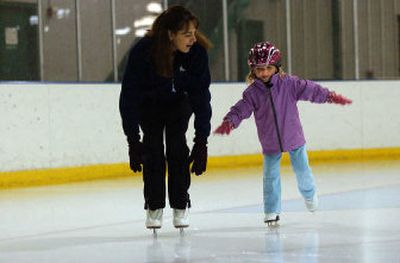 A Spokane Valley ice arena that serves dozens of hockey teams and figure skaters is on the verge of a giant thaw.
Unless a buyer ponies up $1.7 million, Planet Ice's two rinks could become storage — sending players scrambling for ice time and diverting regional tournaments to other cities.
"Other facilities are pretty much booked up, so it's hard to fit in. Losing the rink would be bad all the way around," said Robin Powell, of Inland Northwest Figure Skating Club.
AmericanWest Bank picked up the odd asset when its previous owner defaulted on payments, three years ago. After unsuccessfully trying to sell Planet Ice as a rink, the bank started looking at alternative uses for the building, which sits in an industrial area on North Eden, off Barker Road.
In addition to family skate times slipping away, Powell said a closure would displace the club's 20 figure skaters, including Kalie Budvarson and Chris Anders, a promising pairs team from Coeur d'Alene.
Their coach, Karin Künzle-Watson, a nine-time Switzerland national figure skating champion and Olympian who teaches and coaches at Planet Ice, would also be shut out.
Inland Empire Amateur Hockey Association's 230 to 250 young players would fight for play time at other rinks.
"I think if they were to close that place there would be a lot of angry parents," said Kim Via, association president.
Besides having good ice and heated locker and observation rooms, Via said Planet Ice has schedules that suit schoolchildren. It has enabled the organization to continue growing.
"We've got great ice times. A lot of our leagues are done and wrapped up by 8:45 on weeknights," Via said.
Although Riverfront Park's Ice Palace, Eagles Ice-A-Rena and Coeur d'Alene's KYRO could accommodate some figure skaters and hockey teams, volunteers scheduling ice time complain that crowded rinks try to slot their kids into 5 a.m. spots.
Andy Jackson of Mountain Youth Hockey Association, a North Idaho group with 170 kids playing at Planet Ice, said young kids are already practicing afternoons before parents get off work.
High school students are skating past 10 at night and schedules will worsen if a rink closes, he said.
For skaters, Planet Ice offers convenience. For AmericanWest Bank, the 6-year-old rink is another awkward asset.
The bank ended up holding a long-term lease to a Liberty Lake softball complex, Sports World, after its previous owners bankrupted. Like Planet Ice, the facility served kids and adults, but lacked buyers.
AmericanWest is getting a zoning change to commercially develop the former ball fields and wants to sell the ice rink.
Planet Ice's $1.7 million price tag is far less than the nearly $4 million it cost to build the facility, representing "well over a seven figure loss" for AmericanWest, said Tom Hammons, special assets administrator.
"We've had people make offers and thought that we had it sold and then they tried to beat us down on offers," Hammons said.
Hammons is hoping users will form a nonprofit to buy it, saying it will remain a skating rink until it's sold or its use changes, but declining to offer a timeline.
Dean Gorman of Kootenai Youth Recreation Organization, or KYRO, said it's "next to impossible to make a for-profit rink work in this area."
Ice rental incomes generate $150 to $225 an hour, but lag behind national averages. Utilities cost about $10,000 a month during peak times. A proposed 23 percent natural gas increase doesn't help.
"You're talking about an industry and business that's a very tough nut to crack," said Gorman, who's also president of Coeur d'Alene Colts, a semi-professional junior team.
As a nonprofit, KYRO raised $1 million to purchase an outdoor rink at Go-Kart Family Fun in Coeur d'Alene, along Seltice Way, and make improvements.
"A group of dads with hammers" enclosed the rink and are awaiting a permit to build an ice plant and Zamboni garage, Gorman said.
They hope to reopen in November. In the meantime, the Colts are skating at Planet Ice.
Mountain Youth Hockey Association uses Planet Ice, but will relocate to KYRO's rink. However, if Planet Ice closes and KYRO doesn't reopen as planned, Jackson said the season could be short.
It wouldn't be the first time the hockey association was homeless.
The organization skated at Go-Kart Family Fun. When it closed for two years, it moved to Liberty Lake's Ice World USA.
Ice World, partially owned by former professional football player Mark Rypien, proved to be another loser for AmericanWest Bank, which settled with the owners after the facility bankrupted, two years ago.
After those doors closed, Mountain Youth Hockey Association packed up its pucks and moved to Planet Ice.
"We're definitely the hobo youth association here," Jackson said. "We get on the rental car and travel to the next city."
Local journalism is essential.
Give directly to The Spokesman-Review's Northwest Passages community forums series -- which helps to offset the costs of several reporter and editor positions at the newspaper -- by using the easy options below. Gifts processed in this system are not tax deductible, but are predominately used to help meet the local financial requirements needed to receive national matching-grant funds.
Subscribe to the Coronavirus newsletter
Get the day's latest Coronavirus news delivered to your inbox by subscribing to our newsletter.
---