News > Idaho
Connections spurs ninth-graders
Fri., Sept. 23, 2005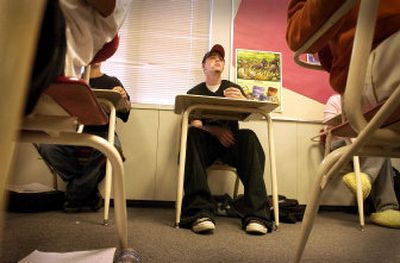 Nathan Gray remembers sitting in a classroom, watching other students scribble notes and wondering what he was supposed to be doing.
At home, he sometimes wouldn't do homework because he felt overwhelmed by the load. When he did do it, sometimes he didn't do it right.
He was falling behind.
Now that Nathan is a high school freshman, where academic performance determines whether students receive the credits they need to graduate, school officials say it's more important for him to get back on track.
That's why educators in Post Falls have started a transition program called Connections. Twenty freshmen have been spending most of their day in portable classrooms, receiving more individualized instruction than their counterparts, as well as help with organizational skills.
The students will remain in the program until they demonstrate they are ready to join the regular high school – ready to cope with increased demands, stress and responsibility.
"The better you do, the faster you get out of here," Nathan, 15, said Thursday before reading class.
Although most school districts offer programs designed to curb the number of high school dropouts, Post Falls is experimenting with an approach that blends academic and attitude preparation. It also gives teachers the ability to intervene with students considered at risk of falling behind rather than wait until they do.
"They're all bright enough," said Bill Wood, a counselor at Post Falls High School. "Motivation is the big thing."
In the past, school officials have seen unprepared students mess up, struggle to catch up and eventually give up.
According to 2003-04 statistics from the Idaho State Department of Education, Post Falls has a graduation rate of 84 percent – same as the state average. But, most of its high school dropouts are ninth-graders, whereas most dropouts statewide are juniors and seniors.
Being in Connections has helped motivate students, said Sandi Jackson, their English teacher. "They're stepping up to the plate," Jackson said. "They want to go to the high school."
The portable classrooms are located near the Post Falls Middle School because that's where the district had space, said Sherie Patano, the Connections principal. Being there has been difficult for the freshmen, who had wanted to move beyond a middle school atmosphere.
But, Patano said, it has had an unexpected benefit in sending a message to middle schoolers: "It really raised their awareness over there to take their school seriously."
Middle school grades were one factor considered when officials chose students for the program. More subjective factors, such as maturity level, were also taken into account.
After each testing period, educators involved in Connections will evaluate students' progress to see if they should move to the regular high school. At the same time, students at the high school who are struggling may join the program.
Connections, a pilot program, will be evaluated at the end of the year.
Nathan's classmate, Jordan Roche, was disappointed not to be going straight to the high school. He and the rest of the class go there sixth period for a freshman transition class.
"It's exciting to be there for the last hour," Jordan, 14, said.
Still, both boys acknowledge the program's benefit.
"They help you if you're struggling," Nathan said. "Step by step they teach you through it so you don't fall behind."
Nathan is determined to graduate and not repeat the mistakes of his three older brothers who didn't.
Dropping out is still his final option, Nathan said. "But I won't give up without a fight."
Local journalism is essential.
Give directly to The Spokesman-Review's Northwest Passages community forums series -- which helps to offset the costs of several reporter and editor positions at the newspaper -- by using the easy options below. Gifts processed in this system are not tax deductible, but are predominately used to help meet the local financial requirements needed to receive national matching-grant funds.
Subscribe to the Coronavirus newsletter
Get the day's latest Coronavirus news delivered to your inbox by subscribing to our newsletter.
---