News > Idaho
Being outdoors best perk for USFS civil engineer tech
Sat., Sept. 24, 2005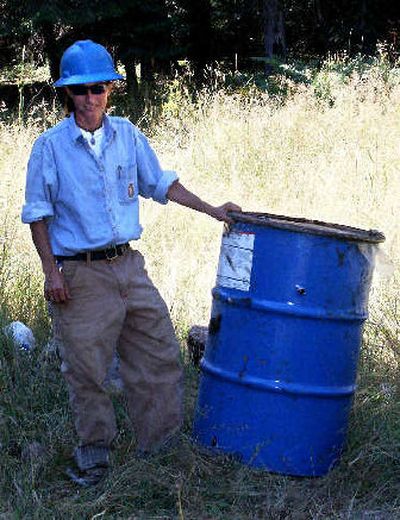 More than 100 years ago, President Theodore Roosevelt set aside 149 million acres of forest as national reserves, creating the Forest Service to manage the land.
Idaho has 16 national forests, covering more than 20 million acres (more than any state except Alaska), contributing greatly to the state's 34,000 miles of forest roads.
Forest Service civil engineer technician Lisa Isaacks, 38, oversees road projects and maintenance in a huge chunk of the Idaho Panhandle Forest's 2.5 million acres of public lands. Obvious by her bright smile, she enjoys working in Idaho's great outdoors – even when it involves going beyond the call of duty to pick up trash from careless forest visitors.
Also trained in firefighting, Isaacks occasionally is called to join a fire crew in an emergency. Since the government job is a seasonal position, Isaacks attends classes at North Idaho College and works in home construction during the winter.
What is your job title? "Civil engineer technician for the United State Forest Service."
How long have you been doing this? "Since 1989. I started on the fire crew, and now I'm in charge of road maintenance."
How did you choose this line of work? "I joined the Forest Service originally to fight fires."
Are you paid: (a) well; (b) more than you are worth; (c) slave wages, (d) could be better? "It gets better if I get called to fight a fire." Isaacks added that she makes approximately $12 per hour and some elements of pay depend on the yearly budget. Since she is a seasonal employee, she does not receive other benefits.
What is the best thing about your job? "Being out in the forest every day."
What is the worst thing about your job? "The occasionally noncourteous ATV rider who crosses streams and does other damage." She expressed a distain for litter.
Do you plan on doing this job (a) until retirement; (b) until something better comes along? "I really don't have a retirement with this job. Better things come along, but I keep coming back."
Do you have any on-the-job funny stories? "We used to have to operate a compactor to repair roads. The first time I ran the compactor, I climbed down in a hole and hung on tight. It shook me all around and I fought it for about a half-hour. All the guys were laughing and my hard hat fell off before someone helped me. I learned not to hold it so tight."
Any bad experiences? "I've been threatened by persons upset over road closures. We occasionally have to shut down a road for maintenance."
If there was a movie made about you and your job, what actor should play you? "Angelina Jolie – she's a strong female."
Local journalism is essential.
Give directly to The Spokesman-Review's Northwest Passages community forums series -- which helps to offset the costs of several reporter and editor positions at the newspaper -- by using the easy options below. Gifts processed in this system are not tax deductible, but are predominately used to help meet the local financial requirements needed to receive national matching-grant funds.
Subscribe now to get breaking news alerts in your email inbox
Get breaking news delivered to your inbox as it happens.
---