News > Nation/World
FDA head announces resignation
Sat., Sept. 24, 2005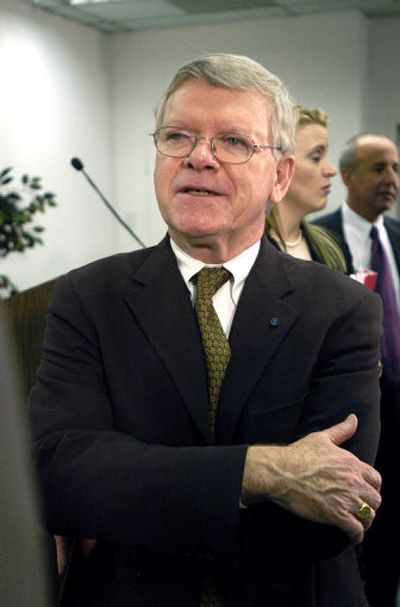 WASHINGTON – Food and Drug Administration Commissioner Lester Crawford announced his resignation Friday, just two months after he was confirmed for the job. His e-mail notice to the FDA staff gave no reason for his surprise decision to step down.
Sources familiar with his departure said that Crawford was asked to resign, though it was unclear why. Crawford has had a stormy tenure at the agency, which has been beset by criticism from both left and right over its actions regarding drug safety and emergency contraception.
He was also accused before his confirmation of having an improper relationship with a female colleague – a charge that independent investigators said both parties denied. The final report did note, however, some significant discrepancies between Crawford's testimony and that of others in the commissioner's office.
Within an hour of the resignation, the White House announced that President Bush had asked National Cancer Institute Director Andrew Von Eschenbach to serve as acting agency commissioner.
Crawford, an affable Georgian who has worked at the agency on four separate occasions over 30 years, explained his departure Friday by saying, "After three and a half years as deputy commissioner, acting commissioner and, finally, as commissioner, it is time at the age of 67, to step aside."
Under Crawford's leadership, the agency has been accused of being lax in its safety requirements following the discovery a year ago that the popular arthritis painkiller Vioxx increased the risk of heart attacks and strokes. The agency has also been buffeted by abortion politics over a proposal to make emergency contraception more easily available.
Crawford announced last month that the agency had delayed, once again, its decision on whether the "morning after pill" Plan B would be available without a prescription. An agency expert advisory panel overwhelmingly recommended in 2003 that the application be approved, but the agency on three occasions said the proposal was either unacceptable or incomplete.
Sens. Hillary Clinton, D-N.Y., and Patty Murray, D-Wash., complained that Crawford's latest Plan B decision broke a promise made to them that the issue would be resolved by Sept. 1. On the basis of that promise, the two lifted holds they had placed on Crawford's Senate confirmation vote.
Local journalism is essential.
Give directly to The Spokesman-Review's Northwest Passages community forums series -- which helps to offset the costs of several reporter and editor positions at the newspaper -- by using the easy options below. Gifts processed in this system are not tax deductible, but are predominately used to help meet the local financial requirements needed to receive national matching-grant funds.
Subscribe now to get breaking news alerts in your email inbox
Get breaking news delivered to your inbox as it happens.
---