Sports
Franklin's gem propels M's to victory
Sat., Sept. 24, 2005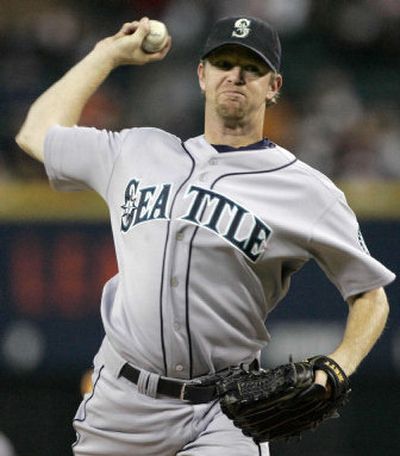 DETROIT – The last time Ryan Franklin came through Michigan, Major League Baseball suspended him for violating its anti-drug policy.
"I remember," Franklin said. "This was much better."
"This" was one of the better games of the season for Franklin and his bullpen, a 2-1 victory Friday over the Detroit Tigers that included seven marvelous innings from the right-hander – and six outs by Seattle relievers that all came with the game on the line.
"The bullpen has been awesome all year," Franklin said. "They did it again tonight."
On a night dominated by pitching, Franklin held the Tigers to one run for seven innings, then sat out the eighth and ninth innings after the Mariners scored the go-ahead run in the top of the eighth.
Clearly, manager Mike Hargrove wanted to get a win for Franklin, whose year has included that suspension and 15 losses – but none of the final six outs was stress free.
You want six outs the hard way?
"J.J. Putz opened the eighth by sticking his right hand in the way of a sharply-hit grounder headed for center field. The ball caromed to third baseman Adrian Beltre, who threw out Curtis Granderson.
"With the bases loaded – two walks and an infield single – George Sherrill followed Putz and faced ex-Mariner Carlos Guillen. Sherrill struck him out.
"Julio Mateo, normally a middle reliever, trotted in with the bases still loaded to face Ivan Rodriguez. Rodriguez grounded sharply toward left field, Beltre snagged it and got out of the eighth.
"Eddie Guardado started the ninth and gave up a single to Craig Monroe, then got an out when the Tigers bunted Monroe into scoring position.
"Getting a called strike on the outside corner, knee high, Guardado hit that same spot three times against Omar Infante and struck him out.
"Pinch-hitter Marcus Thames took two called strikes, then swung wildly at a third and it was over.
"I couldn't look at that last pitch," Hargrove said. "I found something on the dugout floor to look at."
This was just Seattle's 14th win of the season when scoring three runs or less, and the Mariners never gave Franklin much margin for error.
After rookie Jose Lopez doubled in the third inning, the Mariners' No. 9 hitter, rookie catcher Rene Rivera, grounded a hard single into right field to score the run.
Not only was that the first of three hits for Rivera, it came on a play rarely seen in Seattle games.
"I was doing my job, hitting to the right side of the infield to get that runner to third base," Rivera said. "When it got through, that's a bonus."
Franklin hung a breaking ball in the bottom of the third, and Infante hit it out to tie the game. It stayed tied into the eighth, because of pitching and defense.
Monroe, Detroit's left fielder, kept it tied in the seventh when he extended his glove well over the fence to bring back what would have been a home run for Lopez.
And after Carlos Peña opened the seventh with a double, Rodriguez hit a shot toward left that Beltre caught and turned into an out that saved a run.
Pushing hard to make something positive of 2005, the Mariners' win left them 11-11 in September, and with six of their last eight games at home.
Local journalism is essential.
Give directly to The Spokesman-Review's Northwest Passages community forums series -- which helps to offset the costs of several reporter and editor positions at the newspaper -- by using the easy options below. Gifts processed in this system are not tax deductible, but are predominately used to help meet the local financial requirements needed to receive national matching-grant funds.
Subscribe to the sports newsletter
Get the day's top sports headlines and breaking news delivered to your inbox by subscribing here.
---