News > Idaho
'It was so much fun'
Sat., Sept. 24, 2005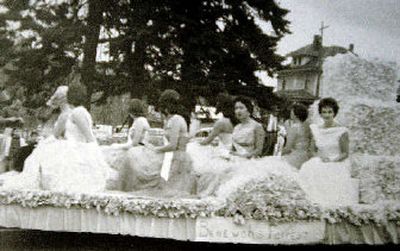 Patricia (Evans) Barry was thrilled when crowned Miss Benewah County. She'd just graduated with the Class of 1948 in St. Maries and was surprised to be chosen to enter, let alone win the competition.
But no one else was surprised, and her beauty and love of life is still evident at 75.
"A sponsor, Florence Gaskell's Beauty Shop, approached me about entering," Patricia recalls. "Although my mother, Martha, was shy about many things, she said it was OK to enter, so I did."
There was no talent competition, but Patricia remembers that the 20 or so contestants were required to parade down the street in one-piece bathing suits for the judges.
"That was before bikinis hit the market," Patricia said.
And Patricia knew just which bathing she wanted to wear, and which friend owned it.
"Everybody knew everybody in St. Maries, and people helped each other out whenever they could."
So she borrowed the suit: a white one piece, sure to show off Patricia's 331/2-23-331/2 figure.
"The judges actually took our measurements themselves, in a back room" Patricia says, laughing. "I don't think that they do that anymore."
Patricia's friendly personality and intelligence couldn't have hurt her chances of winning, either. And she won.
"There were other contestants I felt were prettier, and smarter, and I felt any one of them could win," she says. "I was so surprised when my name was called as the winner; it was so much fun."
She was crowned at the V-J Day street dance, music courtesy of the Whitehead's Gremlins. Patricia and her court reigned over the dance, held at the Odd Fellows Hall.
A combined V-J- Labor Day celebration also was held in St. Maries, a week after V-J Day, on Sept. 6. The event included log loading, log sawing, log chopping, ladies' nail driving, rolling pin throwing, children's races, bingo, and other contests with prizes for the winners. Picnic facilities were offered at the local ballpark for out-of-town guests.
The St. Maries Lion Club sponsored a donkey baseball game the evening after the parade. Emery Hedlund and his Economy Hardware team met E.G. Krieg and the O'Dwyer Hardware boys on the field.
"Those were the days when having fun didn't cost money. It had nothing to do with money; we had fun in school, and out," Patricia says.
The Labor Day parade included logging and other floats, but perhaps the most spectacular float was that carrying princesses Doris St. Marie and Esper Arrhenius, along with Queen Patricia, as it glided down St. Marie's main streets.
Besides the judges, others were impressed with Queen Patricia, as well. One young man in particular, Warren Barry, is now her husband.
Warren was the champion football player and boxer at St. Maries High School. Former coach Ted Scropos still returns for reunions of Warren's team, "The Ironmen," which was undefeated, Patricia shared.
"Warren and I met in the fifth grade. He asked me to marry him in 1949, in St. Maries, a year after we graduated. Not long after that, we began having babies."
The couple has four children, all living in the Spokane area; Rick Barry, 55; Tamara (Barry) Richert, 52; Shannon (Barry) Southwick, 51; and David Barry, 48. The Barrys also have three grandchildren; Lisa Barry, 24, Heidi Barry, 23, and Nicolle Southwick, 23.
"We moved to Bremerton in 1951, so Warren could work in the shipyards. In 1952, Warren went into the freight business in Spokane, and we raised our four children there," Patricia says.
After their children entered school, Patricia worked for 27 years as assistant sales manager at Spokane Seed Co.
Patricia was born in Spokane on St. Patrick's Day in 1930. Patricia's parents separated when she was 10, and mother Martha moved Patricia and her four siblings – Ellsworth, Archie, Lucille and Georgia – to St. Maries, then Jefferson, Mo. When World War II began, the family returned to St. Maries, where Archie enlisted in the Army in St. Maries and Patricia continued school.
Patricia admits her true passion was singing. She wanted to be an opera singer and took music lessons, going to music camp at the University of Idaho in Moscow, as a high school junior. The students performed in a concert at the conclusion of the camp.
"Students came from all over the state; it was a great experience, and I made lasting friendships," Patricia said.
That same year, Patricia sang, in French, Carmen's "Habanera." Her senior year, she sang "One Fine Day," from Madame Butterfly, in Italian.
"Another teacher gave me lessons, and he preferred German," Patricia said, shaking her head.
Patricia sang at weddings, funerals, church and other local events, and received a small scholarship for singing lessons. But after working at the First Bank of St. Maries, marrying Warren and having children, singing took a back seat.
The couple purchased a cabin on Lake Coeur d'Alene, where the family spent many summers together. Patricia now writes and has been published in magazines.
Warren, who enjoys restoring old cars, drove one in Harrison's parade two years ago. He won first prize, just as he won the Queen of Benewah County's heart.
Local journalism is essential.
Give directly to The Spokesman-Review's Northwest Passages community forums series -- which helps to offset the costs of several reporter and editor positions at the newspaper -- by using the easy options below. Gifts processed in this system are not tax deductible, but are predominately used to help meet the local financial requirements needed to receive national matching-grant funds.
Subscribe now to get breaking news alerts in your email inbox
Get breaking news delivered to your inbox as it happens.
---