Sports
Johnson can back up his mouth on the field
Sat., Sept. 24, 2005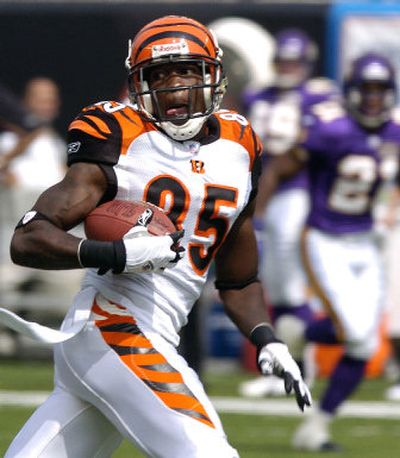 CINCINNATI – Carson Palmer was recounting some fans' reaction to the Bengals' impressive start when he spied Chad Johnson listening behind the semicircle of reporters – an unexpected chance for some fun at the receiver's expense.
"People are excited. Everybody wants Chad Johnson's autograph," Palmer said, sounding serious. "They keep giving me stuff to bring in here and give to Chad, and I keep turning them down."
Unwilling to let someone else have the last word, Johnson cut in with a question: Is there any chance he could get 20 catches against the Bears this week? Palmer thought for a moment.
"I think you've got your work cut out for you, but it can happen," Palmer said.
The quarterback's response was part jest, part tribute – a perfect fit for a receiver who can run his mouth with the best of them, then catch passes as well as any of them.
The Pro Bowl receiver known for guaranteeing wins, shipping antacids and driving coach Marvin Lewis nuts is much more than the mouth. When he's away from the cameras, he's learning what it takes to be counted among the NFL's elite.
"I say to Chad: Every great player in every sport tries to figure out what a team is going to try to do to him," Pro Bowl tackle Willie Anderson said.
Every team gears its defense to try to contain him. So far, no one has figured out how to do it consistently.
Johnson's 16 catches in wins over Cleveland and Minnesota are the second most in the NFL. He had 139 yards during a 37-8 trashing of the Vikings last Sunday that measured his progress.
The fifth-year receiver challenged cornerback Fred Smoot during the week, then trashed the Vikings' secondary with a 70-yard touchdown on the second play. At game's end, Johnson walked over and gave a warm embrace to the beaten Vikings cornerback.
The Vikings knew Johnson was motivated for a big game, but they couldn't do anything to stop it.
"There's a lot of guys in the league that are fast and are good players, but they don't work at it," Palmer said. "And Chad truly works at his game, physically and mentally. He watches film, he understands the game and he's always trying to run a better route, to get quicker off the ball, trying to get a better release.
"The main thing that separates him from the rest of the group is dedication to the game."
Johnson has always spent a lot of time watching film and figuring out how cornerbacks will play him.
He picked Deion Sanders' brain one off-season and approached Jerry Rice at halftime of a game, trying to learn their secrets.
Finally, he figured it out.
Johnson started running all his pass routes full-speed in practice. During a summer minicamp, he dived for one throw, landing hard on his shoulder. He began approaching every practice play like the real thing.
"That's the one good thing about Chad," Lewis said. "He understands his job. It's not what you talk about. It's what you go out and do, and knowing everybody's on the same page. That's where confidence comes from."
Earlier in his career, Johnson was desperate for recognition. Three times, he guaranteed wins; he's 2-1 in that department. Last year, he sent bottles of Pepto-Bismol to Browns defensive backs, then had one of his worst games.
His brazenness drew the anger of Lewis and some teammates, who felt he was unnecessarily riling opponents and promoting himself.
At Lewis' insistence, Johnson is much more careful in what he says this season. Teammates now understand that the trash talk is all in fun, and a big part of what he's about.
"Chad's self-motivating because he knows he can't have all the antics and not practice hard," said Anderson, who disagreed with Johnson's win guarantees. "As long as you practice hard and do your job, Chad can do whatever he wants to do, I don't care."
Cincinnati fans are used to flamboyant sports figures – Boomer Esiason, Pete Rose – and have embraced Johnson's ways. His jersey is one of the most commonly seen around the city.
That means a lot to the second-round pick from Oregon State. When a caller to his radio show said his touchdown theatrics showed a lack of class, a stung Johnson promised to keep it low-key on his next score. He kept his word on the 70-yard play against Minnesota.
"I was hurt," Johnson said of the caller's comment. "I'm the type that I want everyone to like me and what I do. I don't want anybody to have any doubts in anything that I do."
Make no mistake, he plans to keep talking.
"My mouth pushes me because I'm challenging someone in front of me, sometimes the whole team," Johnson said. "My mouth gets me in trouble because everyone's trying to kill me, so therefore I have to move at a faster pace than everyone else. That's what it is."
Would he be as good of a receiver without the talk?
"No," Johnson said. "I would be very boring. There would be nothing to push me."
Local journalism is essential.
Give directly to The Spokesman-Review's Northwest Passages community forums series -- which helps to offset the costs of several reporter and editor positions at the newspaper -- by using the easy options below. Gifts processed in this system are not tax deductible, but are predominately used to help meet the local financial requirements needed to receive national matching-grant funds.
Subscribe to the sports newsletter
Get the day's top sports headlines and breaking news delivered to your inbox by subscribing here.
---