Sports
Kearse not concerned about his lack of QB sacks
Sat., Sept. 24, 2005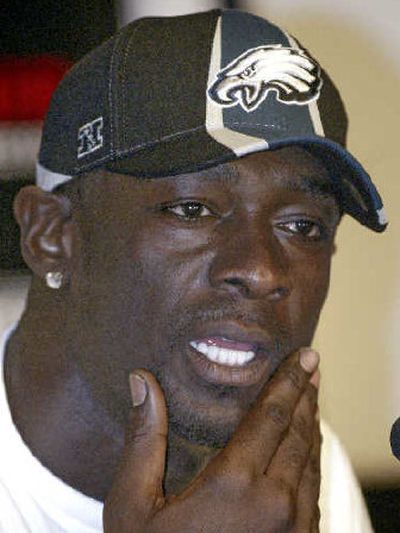 PHILADELPHIA – Jevon Kearse loves to take a sleeping bag from the top of his locker and head to a private room for a little catnap whenever he can squeeze one in between walkthrough and practice.
Hitting the sack hasn't been a problem for Philadelphia's top defensive end. Getting a sack, well, that's a different story.
The former All Pro nicknamed "The Freak" has been held without a sack in the Eagles' first two games, just as he was last year before exploding for three in the third game.
Kearse finished with multiple sacks in only one other game last year and his 7.5 sacks were his lowest total for a full season (he had only two in an injury-shortened 2002 season). Kearse did have two sacks in the playoffs, but has gone five straight regular-season games without one.
Defensive coordinator Jim Johnson said Kearse is due for a breakout game, and playing against Oakland's Kerry Collins might be a good start.
"That will come," Johnson said. "I don't worry about individual stats. I just want to make sure we get the effort and he is giving us great effort, so that is all I care about."
Kearse established himself as one of the premier sack artists in the league with three straight double-digit sack seasons to start his career in Tennessee, and had 9.5 in his last season with the Titans before signing a $66 million, eight-year deal with the Eagles.
Even though his sack total dipped, Kearse significantly upgraded Philadelphia's pass rush, pressuring quarterbacks, chasing down running backs and disrupting offenses.
This season, Kearse has helped the Eagles' defense become one of the stingiest in the NFC – it hasn't allowed a touchdown in the last seven quarters – and he had three hurries in last Sunday's win over San Francisco.
"If we go 15-1 with no sacks, I'd be perfectly fine. Perfectly fine," Kearse said.
Kearse is getting to quarterbacks. He's just not putting them down as is his custom.
That really doesn't trouble Kearse too much. While Kearse is often double-teamed, he said it was single coverage that actually gave him more trouble.
"I do have a lot of singles that I need to take advantage of," Kearse said. "I get so many doubles here or there that by the time I get the singles, it's so rare that I can't believe I would get a single. I really don't take advantage of them."
Kearse played with a bruised knee against the 49ers and was in for only about 30 plays.
Johnson believes if he can get Kearse in for about 50 to 60 plays against the Raiders, the sacks will come.
"He's too good of a pass rusher for it not to come," Johnson said.
Kearse, a three-time Pro Bowl selection in his five seasons with Tennessee, said it was up to the line to put as much pressure as possible on Collins to cut down on the deep passes to Randy Moss and Jerry Porter.
"The challenge is going to be on us, the front four, to get some pressure on Collins," Kearse said.
Kearse was the one getting the pressure this week, fielding questions about the big 0 in the sack column and shaking them off the way he used to shake off double teams with the Titans.
"It's not over, fellas," Kearse said. "I started last season without getting a sack until the third game. It's not over."
Local journalism is essential.
Give directly to The Spokesman-Review's Northwest Passages community forums series -- which helps to offset the costs of several reporter and editor positions at the newspaper -- by using the easy options below. Gifts processed in this system are not tax deductible, but are predominately used to help meet the local financial requirements needed to receive national matching-grant funds.
Subscribe to the sports newsletter
Get the day's top sports headlines and breaking news delivered to your inbox by subscribing here.
---