News > Spokane
Local nonprofits feel impact of national crises
Sat., Sept. 24, 2005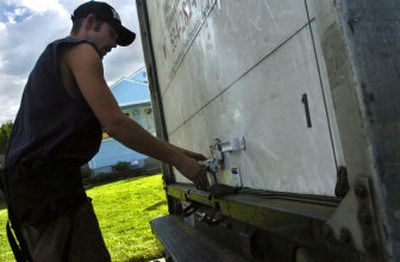 As Hurricane Rita bore down on the Texas coast this week, St. Vincent de Paul made a calculated financial decision: Late Thursday, the nonprofit filled the tanks of its aging seven-vehicle fleet, anticipating the storm may further drive up gas prices.
The delivery trucks travel up to 2,400 miles a week, and rising gas prices have doubled the cost of retrieving donations from Spokane grocery stores in the past year, according to Mathew Meeusen, operations director for St. Vincent.
"We've been tightening our belts and trying to do the best we can," Meeusen said. "We don't have a backup plan. We have to get this food. We're stuck."
In the three weeks since Hurricane Katrina inundated New Orleans, local nonprofits in Spokane and North Idaho have begun to feel its fiscal impact as donations have been directed to national relief efforts.
"We're hopeful folks will be supporting both local and national efforts," Jason Clark, executive director of Second Harvest Inland Northwest, said.
The nonprofit, which serves more than 20,000 people a month, projects its fuel costs will top $40,000 this year – about twice as much as last year.
The distribution center serves food banks in Eastern Washington, as well some in Idaho and Montana.
Clark said donations have dropped slightly in September, which he attributes to the outpouring of aid to Louisiana and Mississippi.
Faced with rising gas prices, Second Harvest has no alternative but to tighten spending in other areas, Clark said.
"We either spend the money and get the food in, or we don't get the food," he said.
If its financial situation doesn't change, the Post Falls Food Bank has enough money to keep going for only two more months, according to acting president Gina Dingman.
The increasing price of gas and utilities can't be covered by the current level of donations that the food bank receives, Dingman said.
She said the food bank's executive director position will not be filled until the financial picture improves.
The food bank, which opened nearly 20 years ago, serves about 4,000 people a month – twice as many as those who sought assistance in 2001 and three times the number served a decade ago.
Larenda Waldo, a 41-year-old Hauser resident, became a food bank customer three years ago and volunteers her time to help.
Waldo, who has three children and works as a caregiver at an assisted living center, relies on the food bank for perishable food such as milk, bread and vegetables, as well as school supplies and winter clothing for her children.
"A lot of times, if we didn't get the items from there," Waldo said, "we wouldn't get them at all."
Jeff Conroy, executive director of the United Way of Kootenai County, said local donations have been strong this year.
Last year, his group sent about $13,000 to the American Red Cross and continues to funnel money to the agency.
"It's tragic and devastating down there, and we want to do everything we can to help," Conroy said. "But we also have 40,000 to 50,000 people in Kootenai County who need our help."
At St. Vincent de Paul, cash donations have "completely stopped," Meeusen said.
His agency has provided clothing and food to approximately 75 families displaced by the hurricane and now living in Spokane, he said.
Meanwhile, some analysts are forecasting that the price of diesel, which has jumped more than 80 cents nationwide in the past year, may rise higher in the coming weeks.
Meeusen said the oldest vehicle, a 1959 dump truck, averages less than 10 miles per gallon of diesel – a fuel inefficiency that is becoming increasingly difficult for the nonprofit to bear.
"It's a huge impact," he said.
Local journalism is essential.
Give directly to The Spokesman-Review's Northwest Passages community forums series -- which helps to offset the costs of several reporter and editor positions at the newspaper -- by using the easy options below. Gifts processed in this system are not tax deductible, but are predominately used to help meet the local financial requirements needed to receive national matching-grant funds.
Subscribe now to get breaking news alerts in your email inbox
Get breaking news delivered to your inbox as it happens.
---