News > Voices
New school supplies greet Progress, Pratt students
Sat., Sept. 24, 2005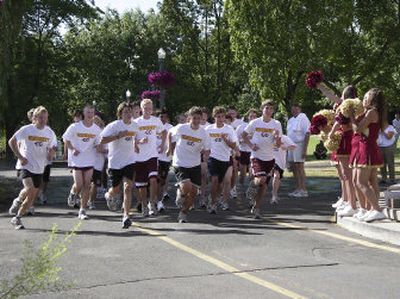 Truckloads of school supplies arrived just in time for students starting classes at two Spokane Valley elementary schools. Both Progress and Pratt received the boxes filled with necessities as a gift from Washington Trust Bank employees.
Progress Elementary Principal Benita Galland often sees small donations of school supplies from neighbors, but she was surprised when two large pickup trucks showed up a few days before school started.
"We've never received anything like this," Galland said. "We are micromanaging every penny of our supply budget, so this is a wonderful surprise."
The school has about 300 students.
"Our kids have really benefited from this. Many students came without supplies or with only portions of supplies. Some families are just struggling for the day-to-day survival.
"Some students were thrilled that for the first time in their lives they had brand new pencils and backpacks. They were able to browse through our school supply shelves and walk into their classroom like everyone else with brand new supplies."
Dozens of boxes of pens, pencils, binders, paper, calculators, backpacks, crayons were collected during the Washington Trust Bank's annual school supply drive. Employees in 18 Spokane-area branches contributed to the drive, which benefited Progress in Central Valley and Spokane Public School's Pratt Elementary.
Terri Pederson, office manager at Pratt, sounded equally amazed at the donation's size.
"It was huge. It was unbelievable. We've had donations, but not like that – copy paper, notebooks, loose paper, pens, pencils, stickies, tablets. It was awesome. It really helped a lot." The school also has about 300 students.
Washington Trust's Community Focus Committee runs the school supplies drive and selects two different schools each year to receive the donations.
"We tend to select smaller schools where the supplies can be enjoyed by more students," said Tracey St. Onge, manager of the Sullivan branch of Washington Trust Bank. "This year, we identified two small schools in the Spokane Valley that have a fair number of students receiving free and reduced price lunches."
Progress Elementary also received two large boxes of donated school supplies from Numerica Credit Union.
U-Hi boys raise $2,189 for hurricane victims
With totals just in, the University High School boys' cross country team far outpaced a goal to raise money for hurricane victims. The team's Sept. 6 Run for Relief brought in $2,189 for the American Red Cross.
Thirty-seven students hoped to raise more than $1,000 by running from the Clock Tower Meadow in Riverfront Park along the Centennial Trail to Mirabeau Point in the Valley during the afternoon. Runners were from ninth to 12th grade.
Team parents turned out at Riverfront Park to sell "Run for Relief" T-shirts for a suggested $10 donation. The shirts were provided at no cost by Eagle Sportswear.
Cross country coach Linda Lanker said the students were excited to make a difference for Hurricane Katrina victims. "We agreed to turn our annual fund-raising run into a bigger event to help our fellow Americans who are struggling to survive," Lanker said.
The team ran in groups along the 12-mile course.
Mile of Quarters fund-raiser planned
Central Valley High School Future Business Leaders of America members and the ASB leadership class have scheduled a "Mile of Quarters" fund-raiser for victims of Hurricane Katrina and the March of Dimes next Saturday.
During the event from noon to 4 p.m. on the CV football field and track, students will lay quarters end to end around the track hoping to get a full four laps. Mike Hittle, CV principal, has agreed to run a lap for each lap of quarters collected.
Music entertainment is scheduled at noon. Pizza donated by A C LaRocca will be served. James O'Hara, a 1998 CV graduate who was living in New Orleans and evacuated three days after Hurricane Katrina, will attend along with new CV students from the New Orleans area.
The community is invited to attend and donate, or they can drive by and contribute to the students who will be collecting along Sullivan Road. Donations also will be accepted Monday through Friday, the weeks of Sept. 26 and Oct. 3, in the high school main office, 821 S. Sullivan Road. Contributors may designate either Hurricane Katrina or the local March of Dimes for their donations.
Local journalism is essential.
Give directly to The Spokesman-Review's Northwest Passages community forums series -- which helps to offset the costs of several reporter and editor positions at the newspaper -- by using the easy options below. Gifts processed in this system are not tax deductible, but are predominately used to help meet the local financial requirements needed to receive national matching-grant funds.
Subscribe now to get breaking news alerts in your email inbox
Get breaking news delivered to your inbox as it happens.
---