Sports
Post Falls can't slow Bengals
Sat., Sept. 24, 2005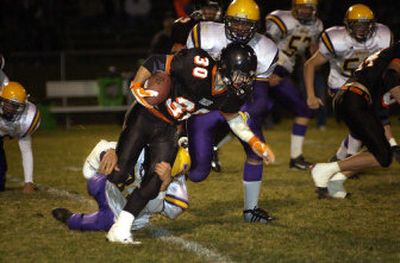 This was more what Lewiston High football coach Emmett Dougherty expected from his offense from the get-go this season.
Lewiston's Bengals moved at will, churning up 404 yards en route to a 35-14 victory over the Post Falls Trojans in an Inland Empire League game Friday at Trojans Stadium.
It was the Bengals' second straight victory after their 62-7 debacle at Bishop Kelly two weeks ago.
"Our offense has weapons. If we don't make mistakes – penalties and those types of things – we're pretty good," Dougherty said.
After three straight road games, Lewiston (3-1 overall, 2-0 league) returns home Friday for a third consecutive game against an IEL 4A team when the Bengals entertain Sandpoint.
Watching Lewiston control the clock and move the ball with precision was exactly what first-year Post Falls coach Jeff Hinz feared would happen.
"They executed very, very well," said Hinz, whose team dropped to 1-3 in its league opener. "Like I said, they've got a well-mixed game plan. Hats off to Lewiston. It's a very talented ballclub."
The first three times Lewiston touched the ball in the first half, it scored. Quarterback Shane Moser lofted a high-arcing, wobbly pass to 6-foot-7 wide receiver Beau Blewitt for an 18-yard touchdown connection on the Bengals' first possession.
After stopping Post Falls on its first possession, Lewiston went ahead 14-0 on a 1-yard plunge by Brooks Reynolds.
Post Falls cut the lead in half on its second series, marching 65 yards on seven plays. Fly back Bobby Kuber went the final 2 yards for the TD.
Moser found McKay for a 28-yard pass-and-catch TD play after McKay got loose behind the Trojans' secondary, extending the Bengals' lead to 21-7 moments into the second period.
Post Falls pulled within 21-14 when junior quarterback Jake Salisbury hit wide receiver Nick Mehalechko on a deep 54-yard post route with 4:50 to go in the first half.
But Lewiston asserted control just before halftime when Moser threw his third TD pass, finding McKay for a 45-yard scoring hook up as the Bengals went into intermission ahead 27-14.
Lewiston put the game out of reach on its first series of the third quarter. McKay, who rushed for a game-high 136 yards, scored from 1 yard out for what would be the final score of the game with 3:30 left in the period.
Post Falls will play its third 5A IEL team Friday when it travels to No. 1-ranked Coeur d'Alene, which was shocked by previously winless Borah 53-35 on Friday.
Hinz just wants to see another positive step as the Trojans prepare for the final half of their schedule.
"At times we looked really good offensively; at times we need to clean up mistakes," Hinz said. "We need to get that done in the next couple of weeks for our (4A) league games."
McKay, Reynolds and Moser combined for 282 yards rushing – most of which came off toss sweeps.
"I think our running game has turned the corner," Dougherty said. "It's real nice to be able to go out and control the clock."
Non-league
Five of Joey Lovell's six completions went for first-half touchdowns as Sandpoint defeated host Bonners Ferry (2-3) 47-19. Lovell threw for 222 yards for the Bulldogs (2-2), and Chad Hecker had 203 receiving yards and four scores. Kurt Stoll ran for 124 yards and a touchdown and added passing and receiving scores. … Andrew Dresback threw for 70- and 59-yard touchdowns and ran for a 1-yard score in a 20-point second quarter as Freeman trounced host Priest River (1-3) 33-0. Michael Wittwer scored on a 15-yard run and a fumble return in the second half for the Scotties (2-1). … Lake City (3-1) traveled south and defeated host Eagle 35-28.
North Star League
Ryan Miller scored on a 1-yard touchdown run in the fourth quarter to give Clark Fork a 26-20 victory over Mullan in the league opener for both teams at Mullan. Bill Clayton added two rushing touchdowns for the Wampus Cats (2-2, 1-0) while Cory Pehan threw for two scores and ran for a third for the Tigers (2-2, 0-1). … Heath Peterson ran for four touchdowns, including three in the pivotal third quarter, as Wallace defeated host Kootenai 54-16 at Harrison. The Miners (3-1, 0-1), who led 22-16 at halftime, exploded for 26 points in the third quarter against the Warriors (0-4, 0-1). … David Park caught a 60-yard touchdown pass from Max Munson and returned an interception 55 yards for a score as Post Falls Christian (2-1, 1-0) defeated Lakeside 32-20 at Plummer. Keith Sperber ran for 206 yards on 19 carries and a touchdown for the Knights (1-3, 0-1).
Washington non-league
Colfax quarterback Ben Aune's only completed pass of the game resulted in a 25-yard touchdown pass to Tony Starrett, the only scoring in the Bulldogs' 6-0 win over DeSales, the No. 1 B-11 team in the state, at Walla Walla. Josh Campbell ran for 98 yards for the Bulldogs (2-1), who held the Irish (3-1) to 154 total yards. … Derk Robinson ran for 103 yards and three scores on just four carries as Asotin defeated host Enterprise (Ore.) 54-8. Asotin (2-1) allowed one touchdown on a kick return and forced five turnovers. … Lind-Ritzville's Tyler Bruegeman returned the opening kickoff for a touchdown, sparking a 38-point first quarter as the Broncos (2-1) defeated injury-depleted Tekoa-Oakesdale/Rosalia (0-3) 60-13 at Ritzville. James Saetre ran for three of L-R's six first-quarter touchdowns.
"Saxon Wolf ran for 80 yards and two scores, including a game-winning 49-yard run, as Garfield-Palouse (1-1) defeated Touchet (0-3) 20-14 in B-8 action at Palouse. Jess Cole led the Vikings with 104 rushing yards.
Local journalism is essential.
Give directly to The Spokesman-Review's Northwest Passages community forums series -- which helps to offset the costs of several reporter and editor positions at the newspaper -- by using the easy options below. Gifts processed in this system are not tax deductible, but are predominately used to help meet the local financial requirements needed to receive national matching-grant funds.
Subscribe to the sports newsletter
Get the day's top sports headlines and breaking news delivered to your inbox by subscribing here.
---