News > Idaho
Re-election tops Bloem's to-do list
Sat., Sept. 24, 2005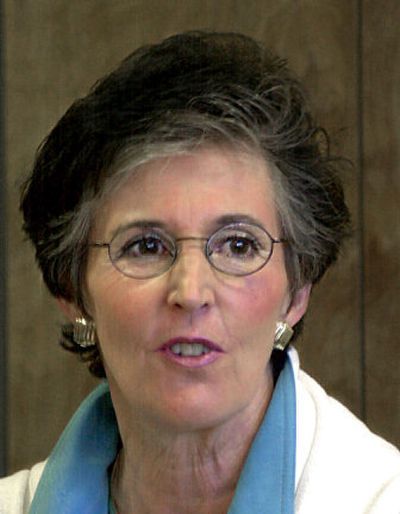 Coeur d'Alene Mayor Sandi Bloem says she is running for re-election because too many priorities remain on her to-do list – projects that range from securing a community center to protecting open space.
Yet, Bloem said she can't tackle these priorities alone and that bringing residents together is key to Coeur d'Alene's success.
"Partnerships and teams really have produced results in the city," Bloem said. "The community can take credit for the health of the city."
Bloem, 62, opted against the fanfare of a public kickoff and instead chose to talk about her re-election bid Friday between answering calls at her Sherman Avenue jewelry store.
She faces political newcomer Joseph Kunka in the Nov. 8 election. Kunka, the marketing representative for the local security company Watson Agency, announced earlier this week that he plans to run a low-budget, low-key campaign.
Bloem's top priority is preserving Coeur d'Alene's "sense of place" – what she described as the feeling of community that draws people to the area. She doesn't want the city to lose those qualities, especially with the large amount of new people moving to town. To do that, Coeur d'Alene must embrace the new residents and get them involved with the current residents, she said.
"You have to ask people to be involved," Bloem said.
Securing a $29 million community center on Ramsey Road is another top goal for Bloem. She's spearheaded the local committee working to win a Kroc Center grant from the Salvation Army that would allow the construction of a facility with an aquatic center, educational center, performing arts center and field house.
Coeur d'Alene is a finalist and is in the process of proving the sustainability of the center. Bloem said the city should know by June if the Kroc Center is a reality.
"I would really like to be a part of seeing the application to completion, breaking ground and opening a center," she said.
The completion of the higher education corridor along the Spokane River is another goal, Bloem said. The corridor would make room for the expansion of North Idaho College, University of Idaho, Lewis-Clark State College and Idaho State University.
Providing a safe city for residents and their children is also on Bloem's list, along with providing more services for less tax dollars and carving out a growth blueprint for Coeur d'Alene.
Bloem was elected in 2001 and is the city's first female mayor.
Three City Council seats are also on the ballot. So far, council members Deanna Goodlander and Woody McEvers are running unopposed.
Councilman Ben Wolfinger isn't seeking re-election, and three people are vying for his seat – local businessman Mike Kennedy, city planning commission member Mary Souza and former city employee Dan Yake.
Local journalism is essential.
Give directly to The Spokesman-Review's Northwest Passages community forums series -- which helps to offset the costs of several reporter and editor positions at the newspaper -- by using the easy options below. Gifts processed in this system are not tax deductible, but are predominately used to help meet the local financial requirements needed to receive national matching-grant funds.
Subscribe now to get breaking news alerts in your email inbox
Get breaking news delivered to your inbox as it happens.
---