Sports
San Jose just keeps winning
Sat., Sept. 24, 2005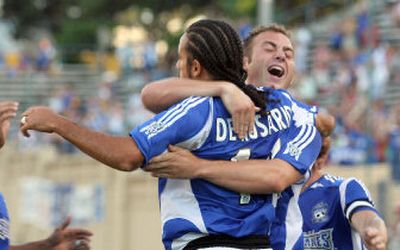 SAN JOSE, Calif. – Dozens of fans belly up to the crowd barriers on a cool night outside the San Jose Earthquakes' locker room, pleading with the weary players to sign soccer balls, jerseys and photographs.
But most of these fans can't shout the names on the blue shirts of Major League Soccer's most dynamic team. Landon Donovan, the United States' biggest soccer star, is long gone from San Jose, and none of the remaining Quakes is anything close to a household name, even in soccer-crazy households.
"Do you even know who I am?" former Gonzaga forward Brian Ching asked one young fan in a blue scarf and jacket. She shook her head sheepishly, but smiled when Ching still signed her poster.
That's life for the Earthquakes – an overlooked, disrespected and often unloved club that simply refuses to stop winning.
Despite turmoil in the front office and turnover on the field, despite shaky fan support and the imminent possibility of relocation, San Jose is finishing up one of the best seasons in MLS history. At 16-4-8, the Quakes have a 10-match unbeaten streak and just one loss in their last 18 matches entering the weekend.
Without an All-Star on the roster, they're headed to the playoffs with a good chance to capture their third championship in five seasons. While Donovan, Freddy Adu and other stars grab the national headlines, the quiet Quakes are on top of the league under the leadership of coach Dominic Kinnear, a former MLS player who assembled his unassuming roster and led it to remarkable heights with structure, teamwork and a harmony that overpowers every distraction.
"I don't know who said we're starless, because they must be blind," said Canadian midfielder Dwayne De Rosario, who had the Earthquakes' first two-goal game of the season in a 2-0 victory over Chicago on Wednesday night.
"Every guy on this team is a star, and they prove themselves day in and day out. Guys come here because they love to play. I know whoever Dom brings in here, they're going to fit our team. Not every guy fits. We only choose the ones that do."
The men who defined the Earthquakes' championship seasons are gone. Speedy superstar Donovan, who scored 10 goals in 14 career playoff games in San Jose, spurned the Quakes in March by choosing to play for their archrivals in Los Angeles.
Donovan's highest-profile teammates, nine-time All-Star Jeff Agoos and sometime U.S. midfielder Richard Mulrooney, were traded in the off-season.
But the biggest loss was Frank Yallop, the respected coach who built the MLS champions in 2001 and 2003. He departed after the second title to take over the Canadian national team, leaving his job to Kinnear, his wiry 37-year-old former assistant who was raised in nearby Fremont.
"The only motivational thing I say is, 'I put my trust and confidence in every single one of you,' " Kinnear said. "'Now go out and play the way you're supposed to play."'
Local journalism is essential.
Give directly to The Spokesman-Review's Northwest Passages community forums series -- which helps to offset the costs of several reporter and editor positions at the newspaper -- by using the easy options below. Gifts processed in this system are not tax deductible, but are predominately used to help meet the local financial requirements needed to receive national matching-grant funds.
Subscribe to the sports newsletter
Get the day's top sports headlines and breaking news delivered to your inbox by subscribing here.
---