News > Voices
Sculptor and art teacher Sami Perry fills life with art
Sat., Sept. 24, 2005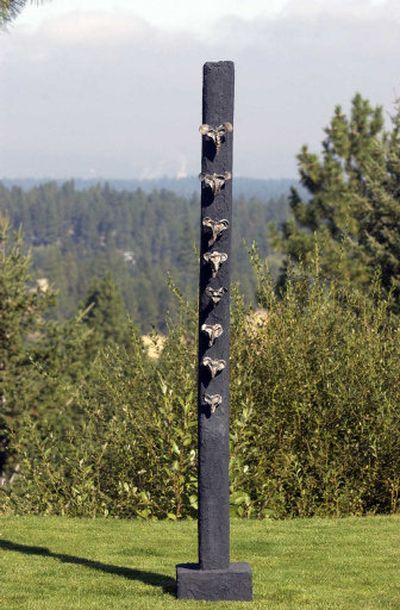 Sami Perry exudes art. Her home, her job, her very existence embodies all that is art. Comparable to extreme sports, she is an extreme artist. Her work, her home, even her hobbies revolve around the subject.
Perry, 48, is a sculptor. She uses metal, iron, clay, glass, concrete, fabrics, fiberglass and recycled materials. The driveway to her home is flanked by two "Towers of Power" which are 14-inch-by-12-foot steel pipes with plasma cut designs and interior lighting. The pilings were once used to support the Cedars floating restaurant in Coeur d'Alene.
Other sculptures are scattered throughout her outdoor environment, including the address panel that contains more than 40 6-inch tiles framed in 2-inch steel tubing and a concrete form on top that displays the address numbers, and a life-sized interpretation of Martha Stewart titled "Is Martha Stewart Living?"
Larger than life pieces made of a concrete product called Dryvit, which is used to make houses look like stucco, frolic on her property.
She has two public commissioned pieces in downtown Spokane. Her "Metal to Magic Project" sculpture stands in front of Interplayers on South Howard, and "Shoe Bench" is at First and Post Street.
Her interest in art started early on. In grade school, she remembers drawing and enjoying the different textures that diverse mediums produced. In the Riverside School District, her high school art teacher, Roger Riggs, urged her to show her work. At Expo '74, along with Riggs and his art teacher Opal Fleckinstein, she displayed her watercolor paintings in the IMAX. She was 16.
Shortly after that, she sold her first piece at Second City, a now-defunct downtown Spokane arts district.
Since then, she has shown in more than 20 solo and group exhibits in the Spokane area as well as Oregon galleries in Portland and Cannon Beach.
She went on to earn a certificate in fine arts from Spokane Falls Community College and then a bachelor of fine arts from Eastern Washington University. She recently started the master's program.
Her home is filled with beautiful and unique pieces done by herself and others, and her studio is filled with the makings of soon-to-be-completed sculptures. Her day job also is filled with creative intentions.
Perry is a K-5 art teacher for the East Valley School District. She teaches students at Trent and Skyview the fundamentals of art and elements of design.
Her advocacy of the arts took her to Rotary Clubs in order to raise money so her students could take a field trip to the Museum of Arts and Culture. Over time, she managed to give hundreds of her students the opportunity to see art in a public setting.
According to Perry there's another benefit for her art students. "If you have art in your life you don't have tunnel vision and it helps with problem solving," she said.
Local journalism is essential.
Give directly to The Spokesman-Review's Northwest Passages community forums series -- which helps to offset the costs of several reporter and editor positions at the newspaper -- by using the easy options below. Gifts processed in this system are not tax deductible, but are predominately used to help meet the local financial requirements needed to receive national matching-grant funds.
Subscribe now to get breaking news alerts in your email inbox
Get breaking news delivered to your inbox as it happens.
---