News > Features
Sightings of creatures means the moose rut is finally over
Sat., Sept. 24, 2005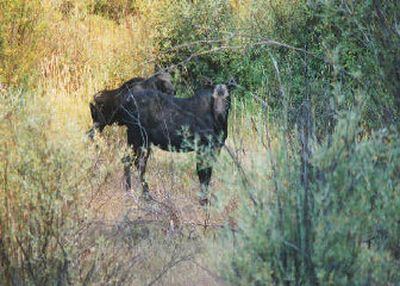 The moose drought is so incredibly over for the Kershner household. For the past month or so, moose have been raining down on us like, well, droppings on a meadow. For a while, we practically had a pair of moose in our bedroom, which is, frankly, too much moose camaraderie even for us.
A little background: My wife, Carol, and I have an unusual (yet healthy) moose fixation, which can only be explained by the fact that we come from Wyoming, a state that has a town named Moose. We actually have a bumper sticker that says, "I Brake for Moose."
Carol first noticed the beginnings of a personal moose drought three summers ago in Yellowstone National Park when we inexplicably failed to see a moose. Then we headed to Banff and Lake Louise and the entire breadth of British Columbia, a province where moose are thicker than poodles in Paris. We still didn't see a moose.
Then we entered the next summer without seeing a moose, which already made it our longest moose drought ever. That's about the time I came upon two moose in their pristine natural habitat, the 14th fairway at Hidden Lakes Golf Course in Sandpoint.
The problem: Carol wasn't with me.
This only irritated her more. The woman needed a moose, and needed one bad. I devoted the entire ensuing year to finding her a damn moose.
After I wrote about our moose drought, you, my wonderful readers, pitched in to help. I was floored by the numbers of e-mails and letters you sent. You gave me dozens of tips on places where you had sighted moose. You, my wonderful readers, would be appalled at how many of these tips we followed up.
We drove the Pack River willow flats. We hiked the Yellowstone River in a snowstorm. We slogged our way through Coeur d'Alene marshes. We chugged our way around Hidden Lakes Golf Course – in February. We saw so many fresh moose tracks, you'd think we were tromping through Bullwinkle National Moose Refuge. We stumbled on one dead moose. Yet never a live moose.
The most desperate moment came this spring, when I hauled Carol up over a high mountain pass and down into a wild, thick creek bottom where the mud was decorated with giant moose prints.
Then I hauled the coffee can out of my pack and started yanking a string back and forth through a nail hole.
The sound was somewhere between that of a low grunt and a Moog synthesizer. Call it a Moose synthesizer.
"What, exactly, the hell, do you think you're doing?" Carol asked.
"It's a homemade moose call. One of my readers sent me instructions."
She looked around nervously.
"So you're calling in a rutting bull?" she said. "In May? Is that a smart idea?"
"You never know," I said, yanking my string frantically back and forth. "Maybe there's a very lonesome and very confused bull out there."
I lured no moose. Yet we didn't give it a fair trial. After 30 seconds, Carol made me put it away.
We always suspected the drought would end when a moose found us, not vice-versa, and that's exactly what happened. Our daughter Kate was out jogging near Comstock Park, three blocks from our house on Spokane's South Hill, when she saw what appeared to be two horses galumphing across the street. As soon as she saw they were moose, she made a U-turn, ran straight home and grabbed Carol.
Carol spent a happy three hours watching those moose in Comstock Park. Carol was so giddy I was briefly worried that she would have to be removed from the park the way the moose were, after being sedated by dart.
Since then, we have seen moose everywhere. Two weeks ago, we spent a week of fly-fishing at a cabin on the West Fork of the Bitterroot River. We hadn't been there two hours before Carol interrupted me in mid-cast, and said, "Jim, we're being watched."
A big moose cow stood right across the stream, eyeing us with a look that said, "Are they worth stomping to death? Maybe later."
A half-hour later, her yearling calf emerged from some willows and caused us to beat a hasty retreat over a rickety bridge.
Turned out, those two moose spent the entire week dining on willows right below our cabin. Every morning, we walked out on to the porch with our coffee and watched our moose. We spied on them all day and spent every evening shooting photos of them. At night, we could hear them through our open window, walking through the brush and bedding down.
We got home and developed our photos.
"That showed a lot of restraint," said Kate. "Of your 24 pictures, only 22 are of moose."
This was a moose fix to last us years, but I'll bet it won't have to. We have already had several other close encounters. Just this morning, I drove to a friend's house near Tower Mountain. They had seen a moose in the willows just an hour before. Did I want to go looking for it?
Nah. No need. Moose are thicker than marmots around here.
Local journalism is essential.
Give directly to The Spokesman-Review's Northwest Passages community forums series -- which helps to offset the costs of several reporter and editor positions at the newspaper -- by using the easy options below. Gifts processed in this system are not tax deductible, but are predominately used to help meet the local financial requirements needed to receive national matching-grant funds.
Subscribe now to get breaking news alerts in your email inbox
Get breaking news delivered to your inbox as it happens.
---