News > Spokane
Store-camera thief provides great close-up
Sat., Sept. 24, 2005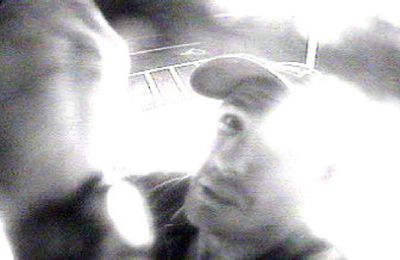 No doubt the thief thought he was being clever when he stole a grocery store's outdoor security camera.
Perhaps he should have stolen a television instead. Then he could have seen how movie crooks do it: They spray paint the camera lens black so police can't make out their faces.
But not this crook, and now Spokane Valley police are asking the public's help in identifying the videogenius who filmed his self-portrait while stealing a security camera from Barney's Harvest Foods.
"In the process, he preserved as evidence several very nice images of his face," said Spokane Valley police spokesman Dave Reagan.
The thief entered Barney's, on Dishman-Mica Road, about 11:50 p.m. on Sept. 9 and removed the camera, a GE-Kalatel mini-dome model valued at $642.
Security cameras are not a commonly stolen item – maybe two or three a year, Reagan said. Usually police don't solve these types of thefts, but "I have a feeling we'll be able to solve this one."
"The security system recorded the thief's face in such good detail that you can see him grimace as he removes the camera from the building," Reagan said. "Detectives hope they are able to help him grimace some more."
Anyone with information about this suspect is encouraged to call the Spokane Valley Police or Spokane County Sheriff's Office at 242-TIPS.
Local journalism is essential.
Give directly to The Spokesman-Review's Northwest Passages community forums series -- which helps to offset the costs of several reporter and editor positions at the newspaper -- by using the easy options below. Gifts processed in this system are not tax deductible, but are predominately used to help meet the local financial requirements needed to receive national matching-grant funds.
Subscribe now to get breaking news alerts in your email inbox
Get breaking news delivered to your inbox as it happens.
---