This column reflects the opinion of the writer. To learn about the differences between a news story and an opinion column, click here.
Opinion > Column
The Slice: Favretism can be a big hassle for dad
Sat., Sept. 24, 2005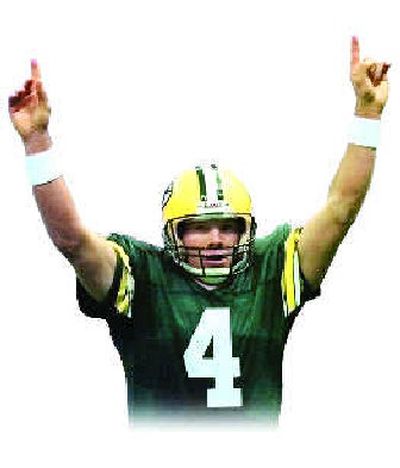 MIKE SELF'S 7-year-old son has become a big pro football fan. It started recently when a friend gave young Sean some football cards. One of the cards featured Green Bay Packers quarterback Brett Favre, who has become Sean's favorite player.
Anyway, last weekend Sean and his dad watched the Seattle Seahawks game on TV. When that was over, they switched to coverage of the Cleveland Browns vs. Green Bay.
"He was really excited to see the Pack and his man Brett playing," wrote Self, a Spokane Valley resident.
Anytime something happened, Sean would ask if the veteran QB had been involved in the play.
"Was that Brett Favre?"
"Did Brett Favre catch it?"
"Did Brett Favre score a touchdown?"
"Did Brett Favre tackle him?"
His dad tried to help Sean understand the sport's team concept.
"I did my best to explain that Brett Favre is the quarterback, that he really just throws the ball and hands it to other players," wrote Self. "I said he is unable to do everything on the field (a conversation I believe I've had with other Packer fans)."
While the Selfs watched the game, the announcers started talking about Trent Dilfer, the Cleveland quarterback, and his relationship with former teammate and current Seattle signal-caller Matt Hasselbeck.
"Sean, hearing the conversation and wanting to know how it pertained to Brett Favre, turned to me and asked, 'Is Brett Favre a quarterback or a hassleback?' "
"Joe Sherman, of Cusick, Wash., lists his all-time favorite movies: "Apocalypse Now," "The Road Warrior," "Chinatown," "Blue Velvet," "Strictly Ballroom," "Pulp Fiction," "Bonnie and Clyde," "American Graffiti," "Silverado," "Out of Africa."
"Pet Peeve Department: Judy McBroom can't stand the expressions "went missing" and "gone missing."
"A person IS missing or WAS missing or (plural) they ARE missing," she wrote.
"Misheard Lyrics Department: A parent in Rathdrum, Idaho, reports an utter inability to properly sing a certain song since hearing a son belt out "Home, home on the range/Where the deer and the ants go to play."
"Pet Names Department: Chris Anderlik told about a pair of young, abandoned cats found on Wright Boulevard in Liberty Lake. They now have a good home and are called Wilbur and Orville.
"Offend Certain Drivers Department: "Forget about souped-up Hondas," wrote Logan Sakamoto. "I think most crimes here are committed by those driving Ford Tempos."
"Offend Still More People Department: Ralph Virene answered the Slice question, "How long would you last as a teacher?"
"Only until I beat the stuffing out of the first brat to mouth off to me," he wrote.
"Today's Slice question: What school has the best fight song?
---
---