Sports
Trick play lifts Panthers over Saxons
Sat., Sept. 24, 2005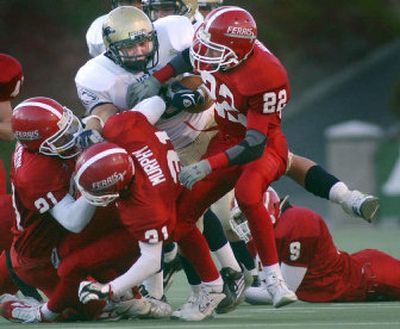 Andy Mattingly and Skylar Jessen have known each other since elementary school. They've played football together for as long as they can remember. Since they've entered Mead High, they've urged their football coaches to put in their favorite play:
The hook-and-ladder.
"We ran it in seventh grade and it worked, so we've been asking for it ever since," Jessen said. "We tell the coaches, 'We know it will work. Put it in.'
"Coach finally trusted us and put it in. We practiced it and we knew it would work."
It did.
Tied with Ferris in Friday night's showdown between Greater Spokane League undefeated teams with only 1 minute, 29 seconds left, 68 yards from pay dirt and momentum wearing Ferris red, Mattingly caught Andrew DeFelice's 8-yard pass in the left flat and, before coming down, flipped it to Jessen flying by.
The senior running back, who along with Mattingly has committed to Washington State, raced down the right sideline, avoided Anthony Zachery's dive at the 16 and scored, lifting the Panthers to a stunning 34-28 victory over the Saxons.
"Skylar and I just have chemistry," the 6-foot-4 Mattingly said. "As soon as I came down with the ball and got it too him, I knew he would go. I was looking down the sideline, making sure he didn't step out of bounds."
The 3,842 at Albi Stadium for the first game of a doubleheader – West Valley defeated Rogers 21-0 in the nightcap – saw a game worthy of two teams ranked in the state 4A's top 10.
They walked out remembering the hook-and-ladder. If not for that, they would have been talking about a play just seconds earlier: a fake punt by Mead with a 28-21 lead … at its 27-yard line … on a fourth-and-3 … with 2:48 left.
Mattingly was involved in that one too. He took a short snap, ran right, passed to Dan Baird, who was swarmed under short of the first down.
"Ever since I coached with Mike McLaughlin (at Mead) years ago, we've had automatic audibles on punts," Mead coach Sean Carty said. "We ask kids to make decisions based on what they see and sometimes they don't make the right ones. But it's on us coaches. Our audible for a fake punt is too much like our punt call. It will change.
"At least it didn't get us."
But Ferris (3-1, 2-1 in the GSL, ranked ninth in the state) did get a quick score from the 26 in three plays, including Zachery's 19-yard run that set up Caleb Rath's 1-yard quarterback sneak.
The Panthers' game winner came on the ensuing drive, and it may have been effective because Mead had run the ball so well (they finished with 327 yards rushing, with Jessen accounting for 180 on 30 carries) and hadn't been overly successful passing (less than 100 yards with two interceptions prior to the hook-and-ladder).
"The guys up front opened up great holes," Jessen said of the ground success. "Tonight was important for me, because I didn't get to play them last year, not with a cast on my leg."
With Jessen healed and finding space, the Panthers (4-0 overall, 3-0 and ranked fifth) rolled over the Ferris defense at times, including a game-opening 67-yard drive that took five plays and 1:07, culminating in Jessen's 10-yard run.
Then there was Mead's first drive of the second half, a 79-yarder that took 14 plays (plus two big defensive pass interference penalties), used more than 7 minutes, and finished with DeFelice's 12-yard toss to Bryan Lynch.
It all added up to 489 total yards for the Panthers offense.
But there were stretches, especially in the second quarter, when Mead handed great field position to the Saxons, and they took advantage.
Ferris only had one long scoring drive and it came after Scott Ward intercepted DeFelice's pass intended for Jessen in the Saxons' end zone.
Rath culminated the 80-yard march with a 41-yard cutback run through most of the Mead defense. He finished with 89 yards on 12 carries, nearly half of the Saxons' rushing total (182).
His scoring run seemed to energize the Saxons, who scored twice more before halftime.
McKenzie Murphy's pick on Mead's next possession gave Ferris a short field. The 50-yard drive took less than 3 minutes, with Rath doing the honors from 1 yard out.
The Saxons' defense held and a short punt meant another short field. It was Zachery putting it in the end zone on a 21-yard flanker reverse that ended a 60-yard drive.
But Mead scored just before half on Jessen's 1-yard run, one of his four TDs.
What looked at the time to be his biggest came with about 11 minutes left, a 5-yard dash that gave Mead a 28-21 lead.
Which is where it stayed until the frantic last three minutes.
"All these kids see each other all summer," Carty said of the two teams' college-bound players, "and, as far as I can see, like each other. But they want to beat each other, especially after last year. We lost, but we thought we missed a few opportunities. We had something to prove."
And a playground play in their back pocket.
West Valley 21, Rogers 0
The Eagles (2-2, 2-1) stymied Rogers' (0-4, 0-3) Gun Option offense with a swarming defense that ran from sideline to sideline.
The Pirates came in averaging 289 yards a game in total offense, but were limited to 35 (including minus-25 rushing) by the Eagles. West Valley, second-to-last in league total offense stats coming in, ran for 114 yards and passed for 176 more, including 170 by sophomore Bryan Peterson.
Peterson also passed for one score (to Camron Bowman) and ran for another.
East Valley 46, Cheney 16
Ryan Campbell rushed for 189 yards on 17 carries and scored six times, tying a GSL record held by older brother Scott and three others, as the Knights (2-2, 2-1) coasted over the Blackhawks (0-3, 1-3) at Eastern Washington University.
Central Valley 33, Shadle Park 0
The Bears picked up their first GSL win (2-2 overall) by limiting the Highlanders (3-1, 2-1) to 153 yards in total offense and forcing four turnovers.
Dane Knutson and Zach Evans combined for 159 yards rushing for the Bears, but it was Anthony Buckman who had the two big scores.
Buckman caught a 27-yard TD pass from Camren Ebat and returned an interception 55 yards for another score.
University 42, Clarkston 28
Billy Sweetser ran for 185 yards and scored three times while Danny Jordan, shaking off an ankle injury, threw for 200 yards on 18 of 26 and two more scores as the Titans (1-3, 1-2) defeated the host Bantams (1-3, 1-2).
Local journalism is essential.
Give directly to The Spokesman-Review's Northwest Passages community forums series -- which helps to offset the costs of several reporter and editor positions at the newspaper -- by using the easy options below. Gifts processed in this system are not tax deductible, but are predominately used to help meet the local financial requirements needed to receive national matching-grant funds.
Subscribe to the sports newsletter
Get the day's top sports headlines and breaking news delivered to your inbox by subscribing here.
---