News > Nation/World
Acting FDA chief sees bright future
Mon., Sept. 26, 2005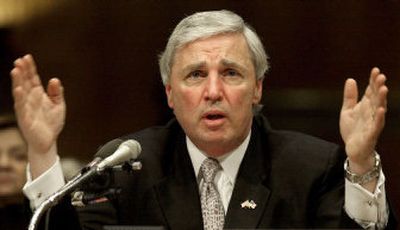 WASHINGTON – The new acting chief of the Food and Drug Administration says he will be presiding over a transformation in medicine as scientists come to understand diseases in a more detailed way that could improve doctors' ability to treat patients.
Dr. Andrew C. von Eschenbach, tapped by President Bush as the temporary chief of the regulatory agency, said Sunday that discoveries about diseases at "a molecular level" will lead to a new kind of health care.
Now, doctors treat illnesses based on how well other people have responded to a given treatment. Soon, they will develop a tailored response built around specific understandings of the patient, the treatment and the disease, he said.
"We are discovering so much about diseases like cancer at the molecular level," said von Eschenbach, a urologic surgeon by training. "Much of what we have done … has been based on a model of empiricism." Soon, doctors will be able to intervene with medical treatments more effectively matched to a specific patient's illness.
Preparing the FDA for this transformation is among his goals, von Eschenbach said.
Von Eschenbach said he will remain chief of the National Cancer Institute, the government's lead agency in researching cancer treatments, while running the FDA. He gave no indication of whether he expected to be nominated as permanent chief of the FDA.
He replaces Commissioner Lester Crawford, out only two months after the Senate confirmed him for the post. Crawford had functioned as acting head for more than year.
Crawford's surprise resignation, submitted Friday and effective immediately, gave no specific reason for his departure. His tenure was marked by increasing criticism of the agency by those who contended it had become more interested in politics or benefiting drug companies than in its mission to protect consumers.
Von Eschenbach declined to discuss in detail specific cases that have led to criticism of the FDA, including those of Vioxx, one class of painkiller only lately tied to heart problems, and Plan B, an emergency, morning-after contraceptive that the FDA has yet to approve for over-the-counter sales despite assurances that it is safe.
Despite the criticism, von Eschenbach had only praise for his colleagues at the FDA, calling the agency the "gold standard" for food and health care regulation.
"I have an enormous amount of respect, admiration and appreciation for them," he said, adding that he will continue many of the initiatives of his predecessors while looking for ways to improve agency operations.
The new FDA chief has a reputation for optimism. His stated goal of eliminating suffering and death due to cancer, turning it into a manageable disease, by 2015 is regarded as ambitious by some and unlikely by others.
He has seen cancer from both sides, having survived three diagnoses: melanoma, prostate cancer and basal cell carcinoma.
Von Eschenbach also discussed the perpetual challenge for the agency: speeding new treatments to the market while ensuring they are safe. Sometimes those values are in conflict, as pressure from drug companies and patients to make new treatments available run up against incomplete or ambiguous safety data.
"I believe very strongly that science has to drive and is the driver of our knowledge and our understanding, and therefore of our decisions," he said. "Where science is incomplete, we continue to believe that under any circumstances, do no harm."
But with new treatments, von Eschenbach said: "I believe it's still important to ask the question, 'How can we accelerate the timeline? How can we make certain we are getting these interventions to the patients as quickly as possible?' "
Local journalism is essential.
Give directly to The Spokesman-Review's Northwest Passages community forums series -- which helps to offset the costs of several reporter and editor positions at the newspaper -- by using the easy options below. Gifts processed in this system are not tax deductible, but are predominately used to help meet the local financial requirements needed to receive national matching-grant funds.
Subscribe now to get breaking news alerts in your email inbox
Get breaking news delivered to your inbox as it happens.
---