News > Nation/World
Al-Sadr supporters ambush Iraqi patrol
Mon., Sept. 26, 2005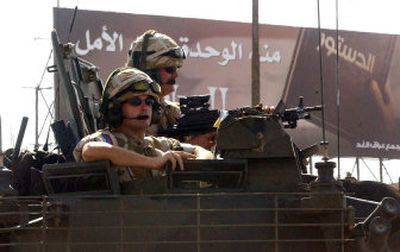 BAGHDAD, Iraq – Gunmen loyal to radical Shiite cleric Muqtada al-Sadr ambushed an Iraqi patrol in an eastern Baghdad slum Sunday, and U.S. forces joined the 90-minute battle, killing as many as eight attackers in the first significant violence in the neighborhood in nearly a year.
Elsewhere in Baghdad, armed men pulled off a daring armored car robbery, killing two guards and escaping with $850,000, and a suicide car bomber slammed into a convoy carrying Interior Ministry commandos, killing seven of them and two civilians.
South of the capital, two separate bicycle bombings in town markets killed at least seven people and wounded dozens.
The ominous resurgence of violence in the poor Sadr City region began about 1:30 a.m. when an Iraqi patrol searching for three insurgents came under attack. U.S. forces in the neighborhood joined the battle and reported killing between five and eight of the attackers. Iraqi police said eight were killed.
This morning, a suicide car bomber attacked a police checkpoint guarding several government ministries, killing at least six people and wounding 13, police said. All six were policemen, but most of the wounded were government employees arriving at work.
Al-Sadr's militia, the al-Mahdi Army, was a repeated problem for American forces until a truce was negotiated about a year ago that allowed some U.S. troops to pull out of Sadr City to join the November assault on Fallujah. Before the truce, al-Sadr's forces had led unsuccessful but bloody uprisings against coalition forces in Kut and the holy cities of Najaf and Karbala.
With a referendum on Iraq's new constitution less than three weeks away, violence in the poor Shiite district could deepen opposition among al-Sadr's supporters who are bucking mainstream Shiite support for the constitution.
Shiite unity has been seen as critical for passage of the basic law, which minority Sunni Muslims by and large oppose.
A statement read to reporters by an official with al-Sadr's office accused U.S. forces of trying to draw them into a battle "aimed at destroying Iraqi towns, particularly those in pro-Sadr areas and … to prevent al-Sadr followers from voting" in the referendum.
The two bicycle bombs hit marketplaces in Hillah, about 60 miles south of Baghdad, where one person was killed and 48 wounded. The second, more deadly bomb went off in Musayyib, about 40 miles south of Baghdad. It killed at least six and wounded 17, including the city police chief, according to police Capt. Muthanna Khalid Ali.
Police also reported finding at least seven bodies in four separate locations in Baghdad – six men who had been bound and shot, including one identified as a policeman, and a woman in her 20s who appeared to have been strangled and tortured.
Authorities said assailants kidnapped a Baghdad school principal on his way to work, and a mortar shell targeting a western Baghdad Iraqi army checkpoint wounded four Iraqi soldiers. In Samarra, 60 miles north of Baghdad, three mortar shells landed in a residential district. One shell hit a house, killing seven members of one family, including children, according to police Capt. Laith Muhammed.
A U.S. soldier also died Sunday, and two others were injured when their vehicle rolled over while on patrol near the Jordanian border, the military reported.
In Britain, Prime Minister Tony Blair gave no ground in the continuing dispute with Iraqi officials in the southern oil hub of Basra, saying Sunday an arrest warrant against two British soldiers had no legal standing.
"We will do whatever is necessary to protect our troops in any situation," Blair told the BBC.
Also on Sunday, about 400 people gathered in Washington, D.C., where support for U.S. troops mixed with anger toward anti-war demonstrators. The crowd, much smaller than organizers had expected, rallied on the National Mall a day after a massive protest against the Iraq war.
Local journalism is essential.
Give directly to The Spokesman-Review's Northwest Passages community forums series -- which helps to offset the costs of several reporter and editor positions at the newspaper -- by using the easy options below. Gifts processed in this system are not tax deductible, but are predominately used to help meet the local financial requirements needed to receive national matching-grant funds.
Subscribe now to get breaking news alerts in your email inbox
Get breaking news delivered to your inbox as it happens.
---