News > Nation/World
Israeli airstrike kills Jihad leader
Mon., Sept. 26, 2005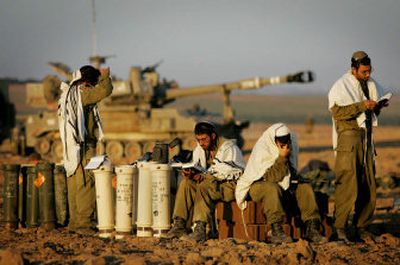 GAZA CITY, Gaza Strip – Israel pressed forward with a broad offensive against Islamic militants on Sunday, killing an Islamic Jihad commander in a pinpoint airstrike in the Gaza Strip and rounding up more than 200 wanted Palestinians. Prime Minister Ariel Sharon promised to use "all means" against the militants.
The offensive, coming just two weeks after Israel withdrew from Gaza, followed a wave of militant rocket attacks against Israeli towns over the weekend. Israel has promised to continue with its airstrikes, arrests and a possible ground invasion until the rocket fire ceases.
"There shall be no restrictions on the use of all means to hit the terrorists and the terror organizations, their equipment and their hideouts," Sharon told his Cabinet Sunday. "The order is unequivocal."
Late Sunday, a top Hamas leader in Gaza said his group would halt the rocket fire. Israeli officials said they would wait to see if things remained quiet before calling off the offensive.
The pullout and the recent wave of fighting have weakened Sharon in his ruling Likud Party ahead of a crucial vote today. Sharon walked out of a stormy Likud meeting Sunday without delivering his prepared speech after an electricity outage prevented him from speaking. Many party members are angry at Sharon over the pullout, and it appeared that his opponents sabotaged the electric system. Today's vote will set a date for party primaries, and a setback for Sharon could force him to leave the party he founded three decades ago, most likely to form a new centrist party.
Sunday's airstrike killed Islamic Jihad's top commander in southern Gaza, Mohammed Khalil, and his bodyguard.
The airstrike signaled a return to Israel's policy of targeted killings. The army said Khalil was responsible for attacks that killed 17 Israelis. Islamic Jihad also said Khalil, 35, had escaped four previous assassination attempts.
After the airstrike, Mohammed al-Hindi, Islamic Jihad's top leader in Gaza and the West Bank, said the group would no longer honor the cease-fire. "There is no talk of a truce; there is only room for talk of war," he said.
However, Mahmoud Zahar, leader of the much larger Hamas group, said he had ordered an end to rocket attacks and a halt in military-style celebrations in order to preserve the truce.
Local journalism is essential.
Give directly to The Spokesman-Review's Northwest Passages community forums series -- which helps to offset the costs of several reporter and editor positions at the newspaper -- by using the easy options below. Gifts processed in this system are not tax deductible, but are predominately used to help meet the local financial requirements needed to receive national matching-grant funds.
Subscribe now to get breaking news alerts in your email inbox
Get breaking news delivered to your inbox as it happens.
---