News > Spokane
It's finally back to school at fire-damaged academy
Mon., Sept. 26, 2005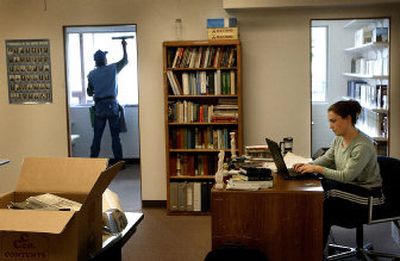 The burned hallways had vanished, replaced with newly painted white walls.
Parents had escorted their children to the school days before classes begin today and exclaimed, "It smells new in here."
A worker carried an overhead projector in each hand Thursday, the day the remodeled Oaks Classical Christian Academy received its occupation permit.
Last week, the school was a rush of activity as teachers began setting up their classrooms for the first time since an arson fire heavily damaged the building June 2. The fire caused $1 million in damage to the private school at 4224 E. Fourth Ave.
This month, investigators acted on a tip and matched fingerprints at the scene to a former Oaks student.
The fire ended classes two weeks early for grade school students last June, while high school students finished the year in the school's undamaged portable classrooms.
This fall, 248 students in kindergarten through 12th grade are beginning the school year a week late with a back-to-school assembly. They plan to honor the firefighters who helped save their school.
"I think the parents are all ready to get school started," said school principal Bruce Williams.
Parents mingled with teachers in the hallway last week. Groups of children roamed their newly remodeled building.
One group stopped to look at the burn marks left on two wooden doors on the north side of the school, which opened in 1996 with 33 students in grades kindergarten through six.
The doors soon will be replaced, and the gym is still being repaired, but classrooms are ready for business.
"It was great to go inside and see that it is all clean and fresh with new material everywhere. It really is a blessing," said Cheryl Gotzian, parent of two students at the school.
The fire was set about 2 a.m. June 2. Williams got the call at 4:20 a.m. Only as the sun came up did he see the extent of the damage. For months, school officials only knew that someone broke in and started the fire. Days after the fire, nearly every school family arrived to help, Williams said. Only one family has pulled a student from the school since then.
This month, the school learned that a student who had been at Oaks for just a few months has been accused of setting the fire.
Christopher Fairfax, 15, was charged Sept. 19 with first-degree arson and was ordered to undergo electronic home monitoring. He's scheduled for a hearing Tuesday morning. No trial date has been set.
Fairfax's family declined to be interviewed but released a statement through their attorney, Carl Hueber.
"Christopher has lived the life of a typical 15-year-old. He has never been in trouble nor the cause of problems. His family was stunned to hear of the allegation as it was extremely aberrant to Christopher's life so far," the statement said.
The statement also pointed out that Fairfax has been cooperative with the investigation and that he is working with a psychologist.
Williams said he learned about Fairfax's alleged involvement in the fire when his parents called to apologize.
"My estimation of them went higher," Williams said. "They didn't have to do that."
Williams said he and the parents prayed together that day.
Fairfax continued coming to school after the fire before anyone knew he had been accused of the crime, Williams said.
Insurance covered the rebuilding costs, Williams said. The gymnasium, which also served as a cafeteria, will be completed by January.
Jeff Gibson, the school board president, said the fire brought everyone together. He was touched that St. George's, another Spokane private school, offered help and use of its facilities. The community outpouring was overwhelming, he said.
"You plan for every crisis, and you think you've got them all down. This was a new one for the playbook," Gibson said.
Local journalism is essential.
Give directly to The Spokesman-Review's Northwest Passages community forums series -- which helps to offset the costs of several reporter and editor positions at the newspaper -- by using the easy options below. Gifts processed in this system are not tax deductible, but are predominately used to help meet the local financial requirements needed to receive national matching-grant funds.
Subscribe now to get breaking news alerts in your email inbox
Get breaking news delivered to your inbox as it happens.
---