Sports
Manning, Harrison connect to set QB-WR yardage record
Mon., Sept. 26, 2005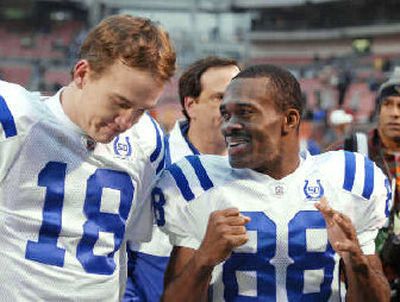 Peyton Manning and Marvin Harrison broke the NFL record for most yards passing between a quarterback and receiver in the fourth quarter of Sunday's game against Cleveland.
The duo entered the game needing 24 yards to pass Buffalo's Jim Kelly and Andre Reed. Manning and Harrison connected six times for 53 yards, giving them 717 completions and 9,568 yards – both NFL records. They broke the yardage record early in the fourth quarter on a 16-yard completion.
"I appreciate it a lot," Harrison said. "It's always good when you can stick with one quarterback and one team. You know each other's ins and outs, it's a great thing to be a part of. I look forward to a lot more yards and touchdowns."
They are also closing in on the NFL record for touchdown passes between a quarterback and receiver. Manning and Harrison have hooked up for 83 TDs, two short of the record held by San Francisco's Steve Young and Jerry Rice.
Manning also became the second-fastest quarterback to reach 30,000 yards passing, doing it in 115 games. Only Miami's Dan Marino (114 games) achieved the milestone in fewer games.
Report: Henry to be suspended for substance abuse
Tennessee Titans running back Travis Henry will be suspended for four games for violating the NFL's substance abuse policy, according to a broadcast report.
CBS said on its pregame show that Henry would be disciplined. A Titans spokesman said he was unaware of the situation. Phone messages left with Hadley Engelhard, Henry's agent, were not returned.
After a 31-27 loss to St. Louis, Henry had little to say.
"It's a league issue," Henry said. "No comment."
Henry was the Titans' leading rusher with 97 yards and a 3.5-yard average in the first two games, but had only three carries for no yards and caught one pass for 16 yards Sunday.
The Titans acquired Henry from the Buffalo Bills for a third-round draft pick in July, just before training camp. Henry started 48 of 53 games in four seasons with the Bills, rushing for 3,849 yards and a 4.0-yard average, and has 67 touchdowns.
Bills' Spikes, Falcons' Hall injured in same game
Buffalo's defense was dealt a huge blow when linebacker Takeo Spikes injured his right Achilles in the Bills' 24-16 loss to the Atlanta Falcons.
Following the game, coach Mike Mularkey wouldn't speculate on the extent of the injury, saying he'll know more Monday. If the Achilles is torn, it is a season-ending situation.
"That could be devastating," safety Troy Vincent said. "He's the pulse. I don't know how bad it is, but it could be devastating."
•Cornerback DeAngelo Hall returned to make a few big plays and bolster an already banged-up Atlanta Falcons secondary.
Hurt in the first quarter, Hall was back on the field for the third quarter to help Atlanta preserve the win. Hall jammed his left shoulder stopping running back Willis McGahee for no gain on the final play of the first quarter. He was cleared to return after tests showed he had sustained only a bruise.
Local journalism is essential.
Give directly to The Spokesman-Review's Northwest Passages community forums series -- which helps to offset the costs of several reporter and editor positions at the newspaper -- by using the easy options below. Gifts processed in this system are not tax deductible, but are predominately used to help meet the local financial requirements needed to receive national matching-grant funds.
Subscribe to the sports newsletter
Get the day's top sports headlines and breaking news delivered to your inbox by subscribing here.
---