News > Spokane
Race car theft puts mother's speedy hobby in the pits
Mon., Sept. 26, 2005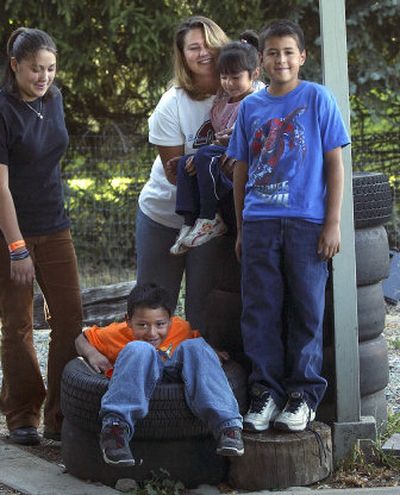 There's a beer cooler filled with spent motor oil in Krissy Gutierrez's driveway, a waist-high stack of slick tires and a bright orange engine puller parked on her front porch.
If only she had a stock car to complete the ensemble, the single mother of four would feel whole.
"It's upsetting," Gutierrez said. "I keep trying to tell myself it's just a car, but it's not."
Twelve nights ago, while Gutierrez slept in her Greenacres home, someone pulled up to her firecracker-red race car, which was already loaded onto a twin-axle trailer. The thief hitched up and took off, shattering the Spokane Valley woman's dream of becoming a real NASCAR mom.
"It's a race car. They probably thought they were getting a good engine," Gutierrez said, except they weren't.
The 350 cubic inch Chevy beneath the hood of Gutierrez's AWOL 1975 Chevy Nova was truly the little engine that couldn't, as evidenced by the mom's finish on her first night out.
"My first race, I think I came in last," Gutierrez said, smiling sheepishly.
"No," said Tonya Lopez, who lives with Gutierrez. "You finished second to last, remember. Someone wrecked."
It was Lopez who walked down the driveway first, at 6 a.m., the day the car vanished. She believes she saw the car and trailer in the morning twilight.
The battle-scarred car with its missing grille and austere metal cockpit seemed an unlikely mate for a woman whose radiant smile and soft features don't scream thrills and spills. Yet it's hard for friends to imagine one without the other.
Lopez also thinks someone stole the car thinking it had a cherry engine, but really got a pit.
The best finish the engine got Gutierrez was a fifth, but you go to the race with the motor you have, and she was happy just to be on the track. She barely made it to the races at all.
Less than a year ago, Gutierrez's stock car was just a bombed-out shell with rally rims for which she paid $200. It had no engine and lacked the suspension needed to keep it from sliding, or rolling, off the track. The only thing it had going for it was the single mother's fascination with racing.
Smiling, Gutierrez tells the story of being bitten by the racing bug in Meridian, Idaho, where, in 2004, friends had talked her into entering the "hornet" class at a local speedway. Hornets are basically commuter quality, four-cylinder cars complete with horns, radios and brake lights above the rear windows. Only newcomers are allowed to race, and those who return the next season must show up with a real race car.
Gutierrez had been living in nearby Ontario, Ore. A friend sold her a little Chrysler with a four-banger motor for $150. Gutierrez completed just one hornet race – the engine blew up on her second try – but she was hooked.
She bought the Nova, plus a parts car, both of which had to be pulled around on trailers. Some friends had promised to help her get started, but then her father offered her a job at his Spokane trucking company, if she relocated. So much for joining the Meridian racing scene.
Gutierrez loaded up the kids and her two junk cars and moved to Greenacres. She bought an engine in February and starting surfing the Internet for local stock car contacts.
"I thought I'd be on the track by April, but I didn't get out to the track until July," Gutierrez said.
She ran into problems. The first engine she bought for her car had already been pushed to the limit, pushed too far, actually, by someone who bored out the cylinders to the point of uselessness. She bought another engine, the one that was stolen with the car, and headed for the track.
Gutierrez is really a one-woman show. She gets help from the boyfriend she met online looking for someone to talk cars with, Jarrod Goodwin, but Goodwin has a car of his own to care for. Mostly, it's Gutierrez and her four children, Kaylee, Josiah, Michael and Alicia, the young crew she calls "Team 75."
Seventy-five is the number on the side of her car, It's her lucky number, the 30-year-old mother said, because it is the year she was born. She doesn't know if she has the wherewithal to get another car.
"I don't know, I have to work on it," Gutierrez said. "I'm going to see if my car turns up shortly. If it doesn't, I'll have to see."
Local journalism is essential.
Give directly to The Spokesman-Review's Northwest Passages community forums series -- which helps to offset the costs of several reporter and editor positions at the newspaper -- by using the easy options below. Gifts processed in this system are not tax deductible, but are predominately used to help meet the local financial requirements needed to receive national matching-grant funds.
Subscribe now to get breaking news alerts in your email inbox
Get breaking news delivered to your inbox as it happens.
---