News > Spokane
Rockford fair's big draw is its small-town appeal
Mon., Sept. 26, 2005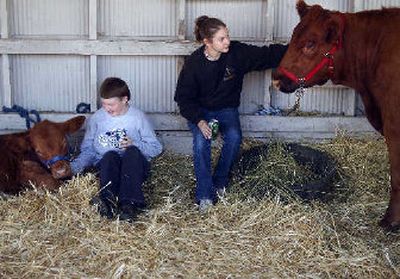 ROCKFORD – For the ninth year in a row, Cathy Lee made the nine-mile drive from her Freeman home Sunday to visit an island of small-town Americana – the Southeast Spokane County Community Fair.
A Californian who moved in 1995 to Eastern Washington to take advantage of schools in the Freeman School District, Lee says she never misses the annual fair.
Like many others from Eastern Washington and Idaho who attend the fair in tiny Rockford, Lee enjoys the fair's small-town size and the leisurely pace, where even the 4-H club rabbits and chickens on display have a calm, unhurried look.
"I can bring my children here and let them go on the rides while I head off somewhere else. It's just a great little fair," Lee said on Sunday, strolling through the farm exhibits in a hall next to the Rockford City Park.
A few years ago, competition from Valleyfest in Spokane Valley on the same weekend worried the locals. Chuck Crockett, the Rockford fair committee chairman, said Rockford fair organizers feared they'd lose attendance as Valleyfest gained exposure.
"But we're still doing good," said Crockett. He said Valleyfest organizers have agreed to promote the Rockford fair in their brochures and the Valleyfest Web site.
Crockett said the fair has more than 100 volunteers. "It's all family-oriented; that's what we do here," he said.
During the event's final day on Sunday, Spokane Valley residents Mark and Barbara Florence said they drove down to look for the dozen or so old friends they tend to see at every Rockford fair.
The couple's two sons several years ago attended school in the Freeman district, and both joined 3-on-3 basketball teams that competed at the Rockford fair. Both their sons have grown up and moved away from Eastern Washington.
"We came back here because we love the small-town feeling of it," she said.
The fair has helped revitalize the town of Rockford, population close to 500, said Jill Dayne, owner of the Hurd Mercantile Gift Mall on First Street. The large gift mall saw steady foot traffic all weekend, as shoppers looked over tables filled with curios, rustic decorations, fabric art and painted furniture.
Dayne, a former Rite-Aid Pharmacy office worker in Spokane, took over the empty downtown mercantile building three years ago. She's helped turn it into the retail hub of southeast Spokane County.
She rents space inside the mall to 16 vendors of crafts, antiques, clothing and home and garden decorations. Business has continued to grow, said Dayne, with most of her customers now coming from North Idaho and Spokane.
Rockford officials told her recently the source of the foot traffic comes from the growing number of vehicles using Highway 278, crossing through Rockford on the way to either Lake Coeur d'Alene or the Coeur d'Alene Casino in Plummer, Idaho.
"We're doing really well this weekend, people have been coming through all day long," Dayne said. Asked if Valleyfest has dented fair attendance, Dayne said she doubted it.
"We're getting plenty of people coming through town. My sales are up 50 percent from last year. I also see a lot of new faces coming through," she said.
Spokane County resident Gini Hinch and her 19-year-old daughter, Shannon, came to the fair, both to look for friends and to watch some 3-on-3 basketball games.
Hinch's children went to school in the Freeman district, and attending the Rockford fair became an annual tradition, she said.
Like the Florences, Hinch enjoys the cozy, simpler feeling of a fair that has no admission price, uncrowded exhibit halls and the sound of family fiddlers playing away in the background.
"It's kind of like Andy of Mayberry down here," she said. "It hasn't changed."
Local journalism is essential.
Give directly to The Spokesman-Review's Northwest Passages community forums series -- which helps to offset the costs of several reporter and editor positions at the newspaper -- by using the easy options below. Gifts processed in this system are not tax deductible, but are predominately used to help meet the local financial requirements needed to receive national matching-grant funds.
Subscribe now to get breaking news alerts in your email inbox
Get breaking news delivered to your inbox as it happens.
---