News > Spokane
National Park entrance fees to go up in 2006
Tue., Sept. 27, 2005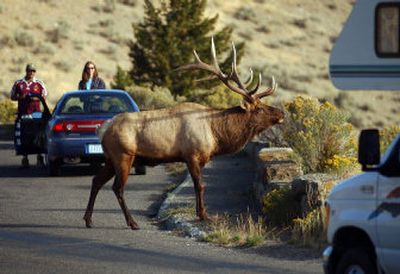 BILLINGS – Many tourists will pay more next year to visit Western national parks such as Yellowstone and Glacier.
Seventeen sites in the National Park Service's Intermountain Region, which covers eight states, will raise certain entrance fees in 2006, agency spokesman James Doyle said Monday.
The new money will be earmarked for such costs as construction of restrooms or visitor centers and maintenance of interpretive programs.
Increased visitation, particularly at "crown jewel" parks, such as Yellowstone, has put added strain on services that the Park Service offers and that visitors have come to expect, Doyle said.
Nationwide, fees could rise at as many as 40 Park Service units next year, said Carol Anthony, a Park Service spokeswoman. She said she did not have a list.
Besides Yellowstone and Glacier, other parks on Doyle's Intermountain Region list that are planning to change at least one type of entrance fee include Bryce Canyon in Utah; Capitol Reef in Utah; Carlsbad Caverns in New Mexico; Grand Canyon in Arizona; and Grand Teton in Wyoming. Other sites in the region include historic sites, national monuments and a recreation area.
The Intermountain Region includes park units in Arizona, Colorado, Montana, New Mexico, Oklahoma, Texas, Utah and Wyoming.
Elsewhere in the West, at least four national parks in California and Hawaii are considering increases, a Pacific regional spokeswoman said Monday.
A final decision has not been announced.
At least four sites in the northeastern United States are considering higher gate fees, as well.
Officials said most of the Park Service's nearly 390 units charge no entrance fees. At those that do, the cost varies.
Where increases are planned, they will range from as little as $1 per person for passes good up to a week in places such as New Mexico's Bandelier National Monument, to as much as $20 for annual passes in other areas, according to the regional Park Service document.
Among the changes planned at Grand Canyon, Grand Teton and Yellowstone, the cost of a weeklong vehicle pass stands to rise from $20 to $25 and the per-person fee would go up $2.
At certain times of year, the new fees would apply at Glacier National Park in Montana.
A message left for an official at Grand Canyon was not immediately returned Monday.
A Glacier spokeswoman said officials there were not ready to discuss plans.
Spokeswomen at Grand Teton and Yellowstone said gate fees there haven't risen in nearly a decade.
The increases, expected to take effect in May, are projected to generate about $1 million a year in additional funds at Yellowstone and about $500,000 at Grand Teton.
Parks that collect the fees keep most of the money.
About 20 percent goes to the National Park Service for agency-wide projects.
At Yellowstone, spokeswoman Cheryl Matthews said fees have gone toward helping reduce a maintenance backlog and for work such as trail improvements and better access for disabled visitors.
Tim Stevens of the National Parks Conservation Association said that group believes entrance fees should be in amounts that do not pose a barrier for anyone wishing to visit a Park Service site. The agency needs more money from Congress, he said.
"What we don't want to do is price the national park experience out of anyone's lifestyle," Doyle said.
"But when you look at fees for places like Grand Canyon, you still get a lot of bang for your buck."
Local journalism is essential.
Give directly to The Spokesman-Review's Northwest Passages community forums series -- which helps to offset the costs of several reporter and editor positions at the newspaper -- by using the easy options below. Gifts processed in this system are not tax deductible, but are predominately used to help meet the local financial requirements needed to receive national matching-grant funds.
Subscribe to the Coronavirus newsletter
Get the day's latest Coronavirus news delivered to your inbox by subscribing to our newsletter.
---