News > Features
This May and December tie the knot in September
Tue., Sept. 27, 2005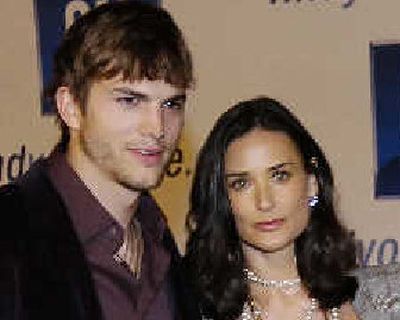 IT'S OFFICIAL: Demi Moore has added another young 'un to the family. Moore, 42, and Ashton Kutcher, 27, were married Saturday night at a private home in Beverly Hills, Calif., in front of 100 guests, according to published reports.
Us Weekly and People magazines reported that the wedding guests included Moore's ex-husband, Bruce Willis, and their three daughters, Rumer, 17, Scout, 14, and Tallulah, 11; actors Wilmer Valderrama, Lucy Liu and Soleil Moon Frye; and Frye's husband, Jason Goldberg, who co-produced the MTV television show "Punk'd" with Kutcher.
It's the first marriage for former "That '70s Show" star Kutcher and the third for Moore, whose two previous marriages – to rocker Freddie Moore (1980-84) and Willis (1987-2000) – ended in divorce. She and Kutcher met in 2003.
In an interview in the September issue of Harper's Bazaar, Moore described Kutcher as her "soul mate" and said they wanted to expand their family, but added that they had no marriage plans.
Support for Moss grows
Kate Moss, who is being investigated by London police on allegations that she used cocaine, is being defended by fellow supermodel Naomi Campbell.
"It's not the first time it has happened in the world … it's really like a vendetta," says Campbell, who's said she nearly self-destructed from her own past use of cocaine.
Meanwhile, the modeling agency in London that has represented Moss for 18 years said it will support her.
"(S)he has consistently demonstrated herself to be a professional and exceptional model and a loyal, special and dear friend to me and countless others," said Sarah Doukas, director of the Storm agency.
No nudity? That's the real bargain
Vincent Pastore, who played gangster Salvatore "Big Pussy" Bonpensiero on HBO's "The Sopranos," has agreed to plead guilty to a charge that he attempted to assault a former girlfriend last spring.
The plea bargain calls for Pastore, 59, to perform 10 days of community service and attend counseling.
"I want this to go away. What do you think, I want to die of a heart attack?" said Pastore, who's recovering from recent emergency triple bypass heart surgery, adding: "I can't do nude scenes now because of the scar."
Courts keep Beanie jumping
Rapper Beanie Sigel was acquitted Monday on charges he shot and nearly killed a man two years ago on a crowded city street outside a Philadelphia strip club.
The 31-year-old rapper, born Dwight Grant, left federal prison last month after serving nearly a year on a federal weapons charge that stemmed from a 2002 traffic stop in Philadelphia. He faces another trial for allegedly breaking a man's eye socket during a January 2003 argument.
It's too soon to be singing with the angels
R&B crooner D'Angelo, who won over America with his '90s soul ballads only to fade after bouts with the law and drugs, has been critically injured in a car wreck outside his hometown of Richmond, Va.
D'Angelo, 31, born Michael Eugene Archer, was in a 2003 Hummer sport utility vehicle on Sept. 19 when it crossed the roadway and struck a fence, ejecting him, police said Monday. He wasn't wearing a seat belt, and it was unclear whether he was driving.
The birthday bunch
Actress Jayne Meadows is 85. Director Arthur Penn is 83. Actor Wilford Brimley is 71. Producer Don Cornelius ("Soul Train") is 69. Musician Randy Bachman (Bachman-Turner Overdrive) is 62. Singer/actor/director Shaun Cassidy is 47. Actor Patrick Muldoon ("Melrose Place") is 37. Actress Gwyneth Paltrow is 33. Singer Avril Lavigne is 21.
Local journalism is essential.
Give directly to The Spokesman-Review's Northwest Passages community forums series -- which helps to offset the costs of several reporter and editor positions at the newspaper -- by using the easy options below. Gifts processed in this system are not tax deductible, but are predominately used to help meet the local financial requirements needed to receive national matching-grant funds.
Subscribe to the Coronavirus newsletter
Get the day's latest Coronavirus news delivered to your inbox by subscribing to our newsletter.
---