News > Business
'New Orleans is my home'
Wed., Sept. 28, 2005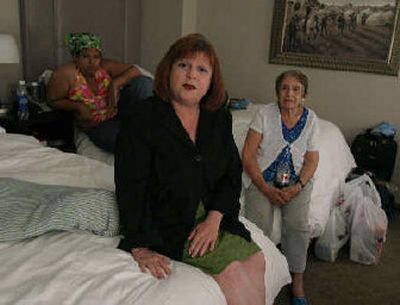 Claire Ryan doesn't know yet if she'll be able to get her small business up and running again in New Orleans, but she's anxious to get back to the city and try.
"Absolutely — New Orleans is my home," said Ryan, who owns a Drama Kids franchise in the city's Garden District. Having evacuated before Hurricane Katrina struck, she's currently in Houston, evaluating if she indeed can reopen the business, which runs drama programs for school-age children.
A handful of small business owners interviewed by The Associated Press all said they wanted to return to New Orleans and restart their companies. How certain they are about their chances for success depends largely on the nature of their enterprises, not on how much damage the businesses suffered.
For Ryan, the question is whether the children that her company serves will come back to the area, or whether their families will relocate elsewhere.
"All of my children have been lost or scattered," she said, and noted that her teachers have also left the city. "I don't know what I'm going back to."
Ryan's home and business are in the city's Garden District, and she believes her house was heavily damaged by a fallen oak tree. She expects to be in Houston for several months while she decides what to do.
Adam Vodanovich and his brothers suffered catastrophic losses. They are the master franchisors for 11 Wing Zone fast-food outlets in New Orleans, owning four franchises themselves; all but one of the stores suffered major flood damage. Their homes near the 17th Street canal were inundated.
The family is undaunted.
"We have nothing to go home to, but we are very fortunate," Vodanovich said. "We're all going to try to go back and rebuild what we can."
The brothers see starting over as an opportunity. "We feel like we have a clean slate. … We know what mistakes we have to avoid," said Vodanovich, who was staying with friends in Tallahassee, Fla.
Another New Orleans store owner, Robert Thompson, considers himself lucky. He has seen pictures of the flood damage at his coffee house, Fair Grinds, near City Park, and "we fared much better than a lot of my fellow shop owners. … The building is reasonably intact, but flooded. I'll have to pull out sheetrock and cabinetry, but by and large I'm not facing the kind of damage that so many are."
Still, while he says, "I fully intend to rebuild and get going again," like Ryan he's worried about the customers he's lost, and very concerned about finding workers — his staff was largely made up of college students, and many have temporarily enrolled in schools around the country. His home nearby appears to have escaped damage.
What helps Thompson's optimism is the fact that his store is a magnet for people — they're looking for the social atmosphere of a coffeehouse as well as a cup of joe — and so a reopened Fair Grinds can help rebuild a neighborhood. In the meantime, as he stays in Houston, he's been in touch with and gotten together with some of his displaced customers.
Connie Zibilich Melancon was helping to tear down her decimated home when a reporter called for an interview, but the owner of a Children's Orchard franchise sounded upbeat about her business and looking to reopen Oct. 1. The store in Old Metairie, which sells lightly used children's clothing, furniture and toys, suffered no damage, and Zibilich Melancon expects there to be a market for her discounted merchandise when parents start replacing their children's possessions lost to Katrina.
Zibilich Melancon and Ryan both reported that their franchise companies have offered help. "We've worked really closely with our corporate office to be sure we are completely stocked with clean clothes, toys and equipment," Zibilich Melancon said.
Many owners whose businesses are more national in scope and not dependent on a neighborhood have already restarted their companies thanks to the Internet and computer networking. But they still face a long recovery before they can head home.
Michael Azzano, owner of Cosmo Public Relations, is running his business out of San Francisco, where he's originally from and where he still has clients.
"We can manage our enterprise from anywhere — the wonders of the virtual office," he said.
Before he can go back to work in New Orleans, his office near the Mississippi River will have to be rebuilt, and "there has to be a support system in place. … We need to have the basics, phone, Internet, schools, hospitals," Azzano said. His house had very little damage.
Why go back if he's got a place to work? "We're passionate about New Orleans. That's why we moved there," he said.
But Azzano expects a big change in his company when he does return: "Our intention is entirely to be back in New Orleans, but we're also looking at this as an opportunity to strengthen our presence in the Bay area and come out of this with two thriving offices."
Local journalism is essential.
Give directly to The Spokesman-Review's Northwest Passages community forums series -- which helps to offset the costs of several reporter and editor positions at the newspaper -- by using the easy options below. Gifts processed in this system are not tax deductible, but are predominately used to help meet the local financial requirements needed to receive national matching-grant funds.
Subscribe to the Coronavirus newsletter
Get the day's latest Coronavirus news delivered to your inbox by subscribing to our newsletter.
---