News > Spokane
Circus-bashing sideshow was finger-lickin' ripoff
Thu., Sept. 29, 2005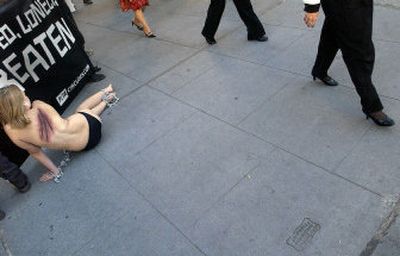 Tofu-brained members of animal rights loon squad PETA staged a circus protest Tuesday afternoon by putting a "naked woman" on a downtown Spokane street corner.
Thanks to me, however, these PETA-philes got more breasts and thighs than they planned on.
Not to mention a secret blend of 11 herbs and spices.
"I love chicken," said a security guard, grabbing a piece from my red-and-white box of greasy goodness.
I went to the demonstration for loftier purposes than gawking at a naked woman.
OK, I'd bicycle backward to Butte to gawk at a naked woman. But giving away free pieces of KFC was my main mission here.
Mmm. Mmm.
Nothing satisfies an animal activism appetite like the yummy taste of the colonel.
Besides, this was the least I could do to repay PETA pinheads for their random acts of insanity.
In past months I have received several PETA promotional products that were quite damaging to America's beloved purveyors of fast-food chicken.
The worst was a dreadful Col. Sanders bobblehead doll. The poor departed King of Cluck was depicted as a leering, gore-splattered, knife-brandishing chicken murderer.
Pure character assassination, I tell ya.
The late, great Col. Sanders was too much of a Southern gentleman to ever raise a blade against our feathered friends.
That's what the unionized chicken pluckers are for.
Truth obviously means nothing to these PETA prevaricators. Case in point is the underlined headline that appears on the news release PETA officials sent out to publicize their event.
"PETA Beauty Bares All, Including Truth Behind Circus's Phony Claims."
What, may I ask, do the words "beauty bares all" mean to you?
As anyone wandering past Main and Howard will testify, Julie Kelton, the (alleged) beauty was hardly naked.
First off, she had her bottom ensconced in a pair of black undies. Plus some sort of stuck-on paper flowers kept cops from hauling Kelton's ample bosoms away on a mammary misdemeanor.
So what does this blatant example of false advertising tell us?
It tells us that if we can't believe PETA when it comes to something as important and serious as public nudity, why should anyone take the organization's circus claims seriously?
The circus is coming to Spokane next month. This whole idiotic PETA protest was supposedly to raise awareness about the mistreatment of elephants.
How a scantily clad woman relates to elephant abuse beats the heck out of me.
Furthermore, the poor woman was wearing chains.
Let me state for the record that it is wrong for even near naked women to be chained. They should be allowed to roam the Earth freely.
My chicken giveaway was the only honest part of this bait-and-switch scam. The only regret I have (besides the troubling lack of free-range nudity) is failing to get any PETA zealots to bite.
"I've gone 12 years without meat," announced one of the gaunt pale zombies.
Oh, you poor soul. Come let the power of chicken heal you.
He turned me down. I've heard about this kind of thing. People dying of thirst sometimes get so delusional that they will reject water when it is finally offered.
As the protest ran out of gas, two workers in a city truck drove up and stopped at a red light.
I walked over to their window.
"We'll take it," they said, accepting the last of my chicken.
Then Kelton got up from her sidewalk repose. She put on a robe and covered up the rest of her parts that weren't taped.
Gads. This PETA peep show was a complete bust!
Local journalism is essential.
Give directly to The Spokesman-Review's Northwest Passages community forums series -- which helps to offset the costs of several reporter and editor positions at the newspaper -- by using the easy options below. Gifts processed in this system are not tax deductible, but are predominately used to help meet the local financial requirements needed to receive national matching-grant funds.
Subscribe now to get breaking news alerts in your email inbox
Get breaking news delivered to your inbox as it happens.
---