Sports
EWU's center of focus
Thu., Sept. 29, 2005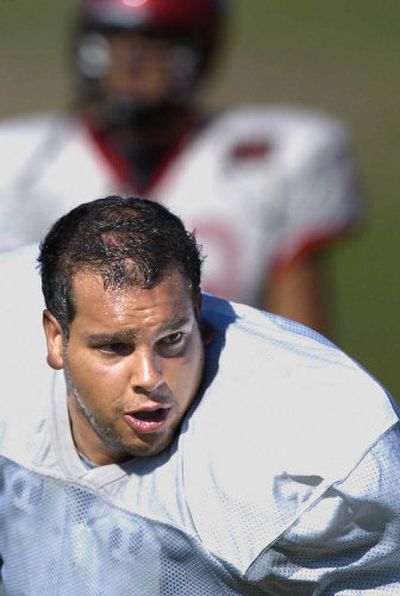 Experience is the best teacher, even if it isn't always kind.
But that isn't how Kraig Sigler will remember his first snap as a college football player.
The Coeur d'Alene graduate was a redshirt freshman in 2002 and made the travel team for Eastern Washington University's season opener at Arizona State. It wasn't long before the got the call to head onto the field in front of 39,581 fans at Sun Devil Stadium.
"I remember running into the game at Arizona State. My brother was right tackle and I was going in at right guard," Sigler said. "I remember looking at him and he said, 'OK let's go.' I'll tell my kids about playing in the playoffs, but I'll always be able to say I played with my brother. That's pretty special."
The time with his brother Kurt is one of the reasons Kraig has become a two-year starter at center and evolved into the leader on the offensive line.
"Experience is experience. You can't coach that," Eagles offensive line coach Aaron Best said. "He was thrown into the fire at guard and took a few huge lumps, as do most centers that have to play guard. … It allowed him to gain experience. If you don't learn quickly you're not going to play."
That initial experience gave Sigler a perspective to remain positive despite being surrounded by four sophomores that are taking their lumps as the Eagles (1-2) head into a make-or-break game with Portland State (3-1) Saturday at Woodward Field.
Eastern's season of high hopes is in jeopardy after it opened the Big Sky Conference season by falling behind 24-7 at Idaho State before rallying, only to lose 34-30.
"We don't have the confidence right now," Sigler said. "Everybody is in a different position. It takes a while. It felt good in the second half. I think we got going and the offensive line got some confidence back. Hopefully, it will go right into the next game."
Sigler and left guard Rocky Hanni, who is battling nagging injuries, are the only linemen in the same position. Left tackle Zach Wasielewski, who dropped about 20 pounds last week because of the flu, was a backup right tackle last season and right tackle Matt Alfred was the right guard. Chris Carlsen was prepared to be the left guard, but was shifted to the right side.
That puts a lot of pressure on the senior leader.
"It's kind of an honor to be in that spot. It's a privilege to be the guy to do that," said Sigler, who was second-team All-Big Sky last year, matching his brother's senior honor. "You offer your advice, whatever you know when you know it, whenever you can. It's kind of a feel thing."
He had good role models, first with his brother and then with Michael Roos, a three-year starter at left tackle who was drafted by the Tennessee Titans in the second round of the NFL draft last spring.
"The best thing I learned from my brother is his football mentality," Sigler said. "If I ever wanted to know how to play football, I just watched him get down and get after it. The first time you get on a football field you don't feel that. You're nervous about what you're doing. My brother would just say, 'Don't think. You know your assignment, you've practiced it enough. Just do it.'
"Roos was different. He didn't talk a whole lot, but when he did it was powerful. He knew when to talk and he knew when to let his actions show it."
Playing a different position isn't the only reason Sigler has to adapt what he learned from his brother, who is 6-foot-4 and played at 295 pounds, and Roos, who is listed at 6-7, 315 on the Titans' roster.
"I definitely don't play with the swagger my brother played with," the 6-1, 280-pounder said. "He wasn't afraid to draw a personal foul. He was OK with it. I'd like to say I'm a little smarter, more like Michael. He always knew what was going on. On the other hand, I'm not as physically gifted as either of those guys. I have to do something different to make up for that – work hard."
Best said knowledge is Sigler's top attribute.
"It's not only from the center position but for the whole offensive line," Best said. "That allows him to overcome some of the small deficiencies he has. His brother helped him pick it up and it came from playing guard. He knows the offense and he will direct traffic."
Sigler was a tackle in high school, but he knew where his future was.
"I knew I didn't have anything but a center's body," he said. "I remember going out and taking snaps the first time, nobody told me what to do or how to do it. I just kind of went right into it. It's probably the easiest spot on the O-line physically. You don't work in very much space and you have a guard to help on each side. On the other hand, you have to be smart to make the calls. You have to identify the defense."
Sigler was a freshman at CdA when his brother was a senior, so they didn't play together. It also wouldn't have happened at Eastern if his brother hadn't been seriously injured, which allowed him to get a sixth year of eligibility.
"He said God did that to him. He always finds the upside," Sigler said. "He said it was good because he got to play with me. That's pretty special."
Local journalism is essential.
Give directly to The Spokesman-Review's Northwest Passages community forums series -- which helps to offset the costs of several reporter and editor positions at the newspaper -- by using the easy options below. Gifts processed in this system are not tax deductible, but are predominately used to help meet the local financial requirements needed to receive national matching-grant funds.
Subscribe to the sports newsletter
Get the day's top sports headlines and breaking news delivered to your inbox by subscribing here.
---