News > Nation/World
Indictment strips DeLay of majority leadership role
Thu., Sept. 29, 2005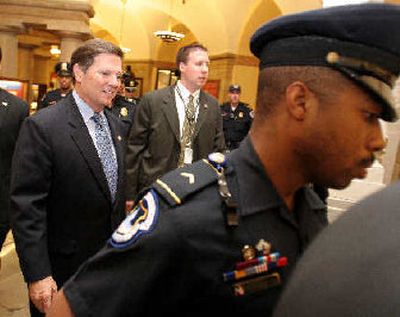 AUSTIN, Texas – A Travis County grand jury indicted U.S. House Majority Leader Tom DeLay on Wednesday, toppling him from congressional leadership and forcing him to answer charges that he helped launder corporate money to GOP candidates in the pivotal 2002 statehouse elections.
In Washington, an angry and defiant DeLay called the indictment "a sham" that would not "hold up under even the most glancing scrutiny."
While he will keep his congressional seat, House Republican rules dictate that he relinquish his leadership position while facing criminal charges. Republicans selected Rep. Roy Blunt of Missouri, who had been No. 3 in the party's House leadership, to take over DeLay's duties.
The four-page indictment stems from a three-year investigation of the Texans for a Republican Majority Political Action Committee, known as TRMPAC. The inquiry has spawned 41 indictments involving 81 counts of criminal wrongdoing, though Wednesday's indictment will probably be the last, as statutes of limitations and grand jury terms have expired.
DeLay was accused of conspiring to violate the Texas election code, a fourth-degree felony punishable by up to two years in prison and a $10,000 fine. Two of his lieutenants, Jim Ellis and John Colyandro, also were reindicted under the conspiracy charge.
District Attorney Ronnie Earle, a Democrat, said he expected to be pilloried with accusations of partisan prosecution.
"I don't know what else they would say," Earle said.
Instead, he said, he was following century-old state laws that prohibit corporations and unions from swamping elections with the easy cash of their shareholders. In Texas, corporate money cannot be used in political campaigns.
The case revolves around the work of Ellis, director of the DeLay-created Americans for a Republican Majority political action committee, with TRMPAC its sister organization.
TRMPAC, run by Colyandro, had identified 21 key House races where victory would give Republicans control of the Texas House for the first time since Reconstruction. Then, a dream of DeLay's could be realized – a midterm redrawing of congressional districts that would allow Republicans to pick up six seats and dominate the Texas congressional delegation for the first time.
The scenario played out just that way, giving DeLay a more comfortable majority to push conservative legislation. But at the same time, the redistricting fractured the Texas Legislature, and the acrimony lingers today.
The grand jury alleges that Colyandro provided Ellis with a $190,000 check drawn entirely from corporate contributions. Because that money couldn't be put in key statehouse races, the two sent the check to the Republican National Committee with a list of seven Texas candidates that needed contributions.
Within two weeks, on Oct. 4, 2002, the RNC issued checks, numbered in sequence, to the seven candidates for a total of $190,000. Earle said the act constituted money laundering and is a felony under Texas law.
"My job is to prosecute crime. I'm doing my job," he said.
He declined to say what role he believes DeLay played in the transaction, saying that would constitute evidence that will come out during a trial. The indictment lists no specific actions by DeLay.
Attorneys for the congressman said he has met with Earle, cooperated with the investigation and even waived the three-year statute of limitations that ran out Sept. 13, three years after TRMPAC's check to the national Republican group.
"Tom DeLay didn't do anything wrong," said Houston attorney Dick Deguerin.
He acknowledged that Mr. DeLay "talks to RNC officials all the time," but he denied that DeLay discussed the $190,000 transaction with his lieutenants or the RNC when they were made.
Another DeLay lawyer, Bill White of Austin, said the majority leader never contacted the RNC about the transaction.
"It's a skunky indictment," White said, that stinks "like a dead skunk in the middle of the road."
Local journalism is essential.
Give directly to The Spokesman-Review's Northwest Passages community forums series -- which helps to offset the costs of several reporter and editor positions at the newspaper -- by using the easy options below. Gifts processed in this system are not tax deductible, but are predominately used to help meet the local financial requirements needed to receive national matching-grant funds.
Subscribe now to get breaking news alerts in your email inbox
Get breaking news delivered to your inbox as it happens.
---