News > Voices
Lucky diamond ring takes couple to South Africa
Thu., Sept. 29, 2005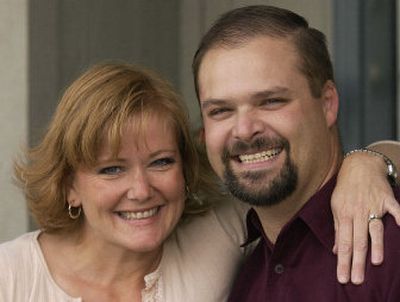 When Thomas Newman bought a diamond anniversary ring that he'd seen four years ago on a billboard for his wife, he had no idea the gems would bear their own gift.
Because of the "trinity" ring the Newmans purchased at Dodson's Jewelers earlier this year, the couple spent nine breathtaking days in South Africa. Each year, the family that owns the factory that cut the Newmans' diamonds randomly chooses a couple from the United States for an educational tour.
The Liberty Lake couple, who have been married for 13 years and have four children, visited Johannesburg and Cape Town and went on safari.
"Each step of the trip was just amazing. It was like a dream," said Samme Newman, 35, a homemaker. "I wanted to see South Africa and memorize everything about it."
For the former high school sweethearts, the trip was a blessed getaway. Practically everything was paid for, and tour guides were on hand to help the Newmans navigate the new territory. Everywhere they went they were pampered, they said, and they even had a butler at their lavish camp during a three-day safari at the Londolozi Private Game Reserve.
"I was so awed by the animals that were there," said Thomas Newman, 36, a network administrator for Knudsen Chevrolet in Post Falls. Except for the elephants, which were kept out by a wire fence, practically all the other animals could wander right into the camp.
The Newmans were astounded at how close they got to some of the animals during their tours. They watched a herd of elephants lumber by and three lionesses preparing for a hunt and saw a female leopard in a tree barely five feet away making a meal out of an impala.
"She kept looking at me," said Thomas Newman, who admits that he felt a bit intimidated even though they were inside a vehicle.
The couple also visited the FestDiam factory in Johannesburg. They said they were surprised to learn that by the time the raw diamonds were cut and polished, only about 40 percent of the original rock remains. For many years the diamonds were cut by hand, which Samme Newman said the owners still prefer, because it is a testament to all the love that goes into the meticulous process of perfecting each diamond.
While the Newmans experienced the glitz of South Africa, they were also exposed to its poverty and its crime.
"It was very shocking to me how people lived," Samme Newman said, referring to how many houses were surrounded by walls and barbed wire fences.
Johannesburg has one of the highest crime rates in the world.
Some parts of the city seemed very dirty and dreary, Samme Newman said.
"There were guards everywhere," she said. "It was very uncomfortable. We didn't know what to expect."
In other areas, where squatter camps had been set up, garbage covered the landscape, but some people had found interesting purposes for discarded items – they used them as ornaments.
"I would never expect to utilize trash as something to decorate with," Thomas Newman said. "We take for granted what we have here."
The Newmans said they loved the people, who all seemed very dedicated and hardworking despite their conditions. But Samme Newman felt that many of them had been alienated from their lifestyles.
"This world, South Africa, is so Europeanized and Americanized. These people have to conform to that," she said, adding that many workers migrate to the cities from the rural areas to look for work, leaving behind their traditional way of life and their families. "It just really made me start thinking how they've been uprooted."
Penn Fix, co-president of Dodson's Jewelers, said he was thrilled that the Newmans not only got to celebrate an important milestone with the ring but they got a tremendous opportunity that was completely unexpected for them.
Fix also has been on one of the Meentz educational tours in South Africa.
"For me and the industry it's quite a remarkable journey to see where diamonds come from," Fix said. "All of our experiences are the same. We'd like to go back tomorrow."
The Newmans, who describe themselves as deeply religious, said they hope to do ministry work when their children are older, and they might return to South Africa for that purpose.
"We never would have considered going there," Thomas Newman said. "We highly recommend it."
"Don't just go for the safari; go and experience their world and their culture," Samme Newman said.
Local journalism is essential.
Give directly to The Spokesman-Review's Northwest Passages community forums series -- which helps to offset the costs of several reporter and editor positions at the newspaper -- by using the easy options below. Gifts processed in this system are not tax deductible, but are predominately used to help meet the local financial requirements needed to receive national matching-grant funds.
Subscribe now to get breaking news alerts in your email inbox
Get breaking news delivered to your inbox as it happens.
---