News > Nation/World
New $10 sports yellow, orange, red
Thu., Sept. 29, 2005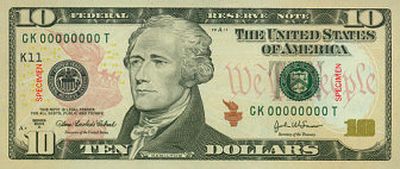 WASHINGTON – Hooray for the red, yellow and orange! Those are the colors featured on the newly redesigned $10 bill, the third currency denomination to add splashes of color to the traditional green of U.S. currency.
Some 800 million of the new bills will be put into circulation starting early next year in the government's latest effort to stay ahead of tech-savvy counterfeiters.
The new bill features a red image of the Statue of Liberty's torch on the left side of a revised portrait of Alexander Hamilton, the first secretary of the Treasury, who is shown without the traditional oval frame around his portrait.
Also highlighted in red is the phrase from the Constitution "We the People" on the right side of Hamilton's portrait. The bill overall has a subtle orange background. The yellow is seen in small 10s around the torch on the front of the bill. There are also small yellow 10s to the right of the U.S. Treasury building, which remains on the back of the bill.
The makeover of the $10 bill follows similar colorization of the $20 bill in 2003 and the $50 bill last year.
Local journalism is essential.
Give directly to The Spokesman-Review's Northwest Passages community forums series -- which helps to offset the costs of several reporter and editor positions at the newspaper -- by using the easy options below. Gifts processed in this system are not tax deductible, but are predominately used to help meet the local financial requirements needed to receive national matching-grant funds.
Subscribe now to get breaking news alerts in your email inbox
Get breaking news delivered to your inbox as it happens.
---