Sports
Not-so-jolly end for Rogers
Thu., Sept. 29, 2005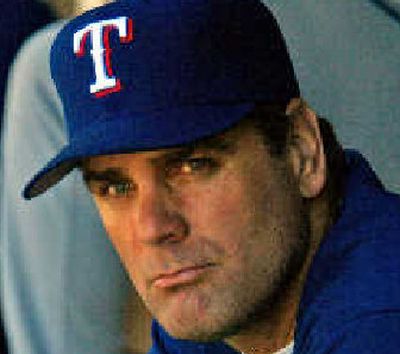 SEATTLE – As he goes into his final start of the 2005 season today at Seattle, Kenny Rogers is pretty sure about one thing: It will be his last start for the Rangers.
After a spectacular year on the mound and a tumultuous year off it, Rogers on Wednesday said he saw no realistic scenario that would allow him to return to Texas in 2006. Rogers, who is bidding for his 15th win, can be a free agent after the season.
"I'm pretty certain this is my last start here," Rogers said. "Actually, I'm extremely certain. I think everybody has made their positions known.
"In a way, I'm kind of relieved. I know I won't have to bend over backwards to make it happen. I think sometimes in the past, my desire to be here has been the overriding factor for me, and at least I know where I stand."
Rogers, who turns 41 in November, has maintained the Rangers have shown little interest in re-signing him since even before the season started. That's what led first to a cold relationship with the club and ultimately to an ill-advised altercation with TV cameramen in June. That incident resulted in reams of bad national publicity, a 13-game suspension and a $50,000 fine.
Rogers went to owner Tom Hicks in February to discuss a contract extension past this year after going 18-9 in 2004. He was rebuffed. After details of the conversation leaked, Rogers became angry toward management.
That feeling only grew over the first two months of the year. After Rogers missed a game because of a fractured bone in his hand, a Rangers official suggested he was "ducking" the start for fear of sullying his statistics. The next day, Rogers went ballistic, threatening TV cameras and eventually tossing around the camera of KDFW's Larry Rodriguez. In addition to the baseball measures, Rogers was eventually charged with a third-degree misdemeanor in the altercation.
Those are the overshadowing moments of his season, not the 14-7 record or the fifth-best ERA (3.42) in the American League. The summer altercation also overshadows the 17-4 record at Ameriquest Field in Arlington Rogers has compiled the last two seasons. He is the second-winningest pitcher in Rangers history.
"It's disheartening for me to have ended up in the situation I've ended up in after I had pitched as well as anybody in the league," Rogers said. "It weighs on my mind a lot. I'm disappointed. I reacted to a situation in a way I shouldn't have reacted. Part of what's happened is my fault, but some of it belongs to others, too."
For their part, the Rangers say they aren't necessarily through with Rogers. Hicks said earlier this summer the club still planned to approach agent Scott Boras about a new deal once the season was over.
Manager Buck Showalter said the team would address potential fence-mending with Rogers once the season is over.
"Let's let him pitch and close down the season first," Showalter said. "He's faced a lot of challenges this year. We've tried to be as supportive as possible. And he's given us another solid year. He's been our best pitcher."
A solid pitcher and a team that desperately needs pitching would seem to be an easy match. It's not quite that simple where Rogers and the Rangers are concerned.
Local journalism is essential.
Give directly to The Spokesman-Review's Northwest Passages community forums series -- which helps to offset the costs of several reporter and editor positions at the newspaper -- by using the easy options below. Gifts processed in this system are not tax deductible, but are predominately used to help meet the local financial requirements needed to receive national matching-grant funds.
Subscribe to the sports newsletter
Get the day's top sports headlines and breaking news delivered to your inbox by subscribing here.
---