News > Spokane
Valley woman loses everything in fire
Thu., Sept. 29, 2005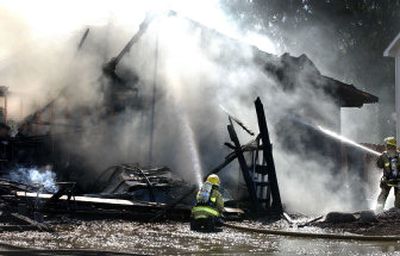 A fire destroyed a woman's Spokane Valley home Wednesday along with most of her possessions.
Ami Takimoto, 70, and her Yorkshire terrier, Guro, weren't hurt, just traumatized by the blaze that started with a boom in the home's garage.
The fire at 9716 E. Whitman Court – a home built in 2003, according to county records – was apparently accidental, fire investigators said. But they remained uncertain of the cause Wednesday night.
Takimoto heard the loud noise in her garage shortly before 1 p.m. She thought a garden hose would douse the flames, so she didn't call for help right away. But she had trouble hooking up the hose, she said. And when she turned the water on, it just trickled out.
Neighbors called 911 when they saw the large column of black smoke rising from her garage.
"When I came out, the house was engulfed in flames," said Mark Bolin, who lives two doors away. "It was like a bonfire at the beach."
Spokane Valley firefighters arrived at the home in the Centennial Trail Estates about 1:05 p.m., Spokane Valley Fire Chief Mike Thompson said. Additional trucks were called when fire crews noticed the blaze quickly swallowing Takimoto's home and spreading to a neighboring house at 9720 E. Whitman.
Firefighters quickly decided to attack the fire from the outside to protect surrounding structures. The neighboring home suffered damage to the garage's outside wall, while Takimoto's became a mere shell – and a broken one at that – of its original state.
Bolin and his roommate, John Martinez, used their shirt collars as air masks to breathe in the midst of the smoke that poured from the charred skeleton of the home.
"I can't believe how fast it went up," Martinez said while watching the firefighters douse the home with several water hoses.
"I just moved in a year ago," Takimoto said. The house is owned by her daughter and son-in-law.
"You're OK and the dog's OK; that's what matters," her son-in-law said with his arm draped over her shoulders. "We have insurance on the house."
Local journalism is essential.
Give directly to The Spokesman-Review's Northwest Passages community forums series -- which helps to offset the costs of several reporter and editor positions at the newspaper -- by using the easy options below. Gifts processed in this system are not tax deductible, but are predominately used to help meet the local financial requirements needed to receive national matching-grant funds.
Subscribe now to get breaking news alerts in your email inbox
Get breaking news delivered to your inbox as it happens.
---